The title was thought up from Tad after he commented that I wrote so much last month that I might be writing my own War And Peace. heh heh heh. Didn't intend for that but we have had so many things happening that was worth mentioning that we did blog a lot even from me. Looks like this month isn't going to be any different. And if the stars align just right this might be our best month ever in views.
The new improvements seem to be a part of that upward trend. The net has plenty of pictures for use as references so thanks to all that have provided the needed pics and 45s to make this blog look better. Most of the 45's you have seen came from 45 Cat. Saves me from scanning some of them since I'm still learning how to scan these pics. I'm surprised that the Mexican Jumping Beans 45 came out as good as it did despite scanner errors.
The state of country music courtesy of Farce The Music. Dead on!
As always, this top ten is a roller coaster ride through different types of music this week. Rock, jazz and Christmas toonz.
1. Rage In The Cage-J. Geils Band 1982 My brother gave me a funny look when he looked into my bag of goodies from the 2 dollar bins at Half Priced Books and made a comment about how many times I bitch about Centerfold being played again on Classic rock radio or the odious KDAT but Freeze Frame the album I have never had till I got it in the bargain bins. Geils started out a hard R&B rock and roll band and morphed into a new wave band but as they got bigger they started not getting along and Freeze Frame would end up being the last album featuring Peter Wolf. Nothing against the title track or Centerfold, they just been played into the ground but the B side to Centerfold was this wild raver which got some KRNA love and played after midnight in the early 80s. It does sound a bit dated but the attitude is all rock and roll.
2. Merry Christmas Will Do-Material Issue 1991 I haven't been in a Christmas mood this year. I made only one attempt to buy gifts and even that was spur of the moment but with 14 shopping days left still don't have a virtual need to go Gift certificating right now. Only Christmas stuff I have listened to so far is a couple from the ill fated Christmas With The Townedgers (Still their biggest selling album to date) and this little power pop classic from Yuletunes, which is a collection of original power pop Christmas songs that came out way back in the early 90s.
3. Liar-Christine McVie 2004 So by now you heard that Fleetwood Mac is touring for next year, seems like the fighting forces that is Buckingham and Nicks are returning to join Mick and John on stage since Stevie's done promoting her last album. No chance on Christine rejoining she high tailed it back across the pond to England and basically retired from it all. But during the time that Say You Will, the bloated 2 album set was tearing up the charts and having Miss Everything Sheryl Crow making a screeching appearance on one of the songs, Christine quietly put out the forgotten In The Meantime, her 20 year followup to the excellent solo disc she made for Warners. In The Meantime was ignored by the masses and even I forgot all about it till I saw it in the dollar bins and decided to revisit that album. A couple of these songs would have made Say You Will a lot better listen and maybe kicking Crow to the curb. Sometimes in life, waiting too long making albums comes back to haunt you. Mc Vie was never heard from again whereas the Mac continues to get back together whenever they need to make a quick buck or two.
4. Dim-Dada 1992 Another band whose output seems to come up a lot in dollar bins is Dada, who had a hit with Dizz Nee Land and got plenty of play on the forgotten alternative rock stations (the so called alternative rock stations are basically called modern rock today and not as alternative as they would like you to think, there's no such thing as alternative rock anymore. Dada made four very long albums for IRS and MCA (none were under 50 minutes as far as I know) and they all stand the test of time actually, Puzzle, the album still is good listening. This was the followup hit to which gets nil airplay anymore. Side note: I saw a fifth album that they did, I guess Geffen Records rejected it but it got issued on a minor label in 2004. I have yet to hear it.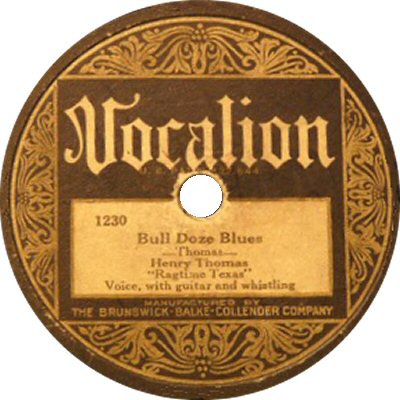 5. Bull Doze Blues-Henry Thomas 1928 Blues before Robert Johnson Thomas was a acoustic country blues singer that recorded for Vocalion in the late 20s. This is interesting since Thomas is using a Quill, a flute like instrument. Born in 1875 he was well into his 50s when he made his best known work to which the Grateful Dead one of his songs Don't Ease Me In and Bob Dylan covered Honey Give Me One More Chance as well. But this song is his best known, Canned Heat would rearranged it and Al Wilson would rewrite the words as Going Up The Country, Jim Horn plays the Quill in the same way Thomas did. Yazoo Records, the old time blues label eventually would issue all of Thomas' Vocalion sides as Texas Worried Blues, another dollar cd find of the week. Link credit:
http://www.wirz.de/music/thomhfrm.htm
6. Los Mariachis (The Street Musicians)-Charles Mingus 1957 Mingus was a jazz genius in the 50s as showcased on this long track off New Tijuana Moods an album that didn't see the light of day till 1962 although this record was reissued with alternative takes of 4 of the 5 songs off this album. Another dollar special that was too good to pass up. Like any other thing I see in the dollar bins at Half Priced Books.
7. If You're Not With Us, You Are Against Us-Gavin Rossdale 2008 Needless to say I conclude my 1.99 special on Rossdale's album with Bush or as a solo artist and I think getting Chris Treynor from Helmet really helped Rossdale find his inner rock groove although I think The Distort Yourself album he did with Page Hamilton wasn't too shabby either. Even being married to Gwen Stefani didn't keep him on Interscope, his solo record bombed and they let him go. But in the meantime with nothing to lose Rossdale kept Traynor and the drummer from Bush to reform Bush and they made their best album in the process. And got me to review the rest of Gavin's back catalog with various bands and solo projects.
8. Last Man Standing-Mac McAnally 2004 Quick name the Musician Of The Year of the CMAs for the fifth straight year running? Mac is the Richard Thompson of Nashville, a cult artist that can write them and produce bands and play guitar in Jimmy Buffet's Band and get plenty of praise but his albums only sold to a handful of fans. He also goes way back to the late 70s when he made two albums for Ariola America, but when that label shut down found himself on the upstart Geffen Records to which he probably made his best albums although they are hard to find on CD, and Dreamworks put out the first two Ariola albums although I have yet to see any of them. This is from his 2004 Semi True Stories CD which came out on Jimmy's Mailboat Records.
9. Open The Gates (out of the way of the people) Dave Brubeck 1971 In a attempt to try to break away from adding another version of Take Five, I decided to go with this song from Dave's 1971 Newport Jazz Concert that showed him in a very proving mood. Beforehand, Bill Chase's band had a great showcase and DB felt like he needed to top Chase and he puts together a fiery performance. He had a excellent group of sidemen playing (Jack Six and Alan Dawson one of the best rocking rhythm sections DB ever had, and that included the legendary Take Five lineup) and Gerry Mulligan playing sax but it's all Dave and it's all good. It even got better the next year when Paul Desmond joined up to do some overseas dates which became We're All Together For The First Time live album.
10. Greenback Dollar-The Men They Couldn't Hang 1985 I gather this is a punk version of the Kingston Trio's Single version to which they don't use the offending D word but rather do a power guitar chord strum instead. Outside of the two albums they did for Silivertone, they stayed busy over the pond. I always had a soft spot for their Domino Club album.
Leftovers:
The Fleecing Of America-Dada 1996
Now I Belong To You-Brian Hyland 1964
Oh Yeah-Aerosmith 2012
Give Me Just A Little More Time-Chairman Of The Board 1970
It's About That Time-The Idea 1991
Late to press was Ravi Shanktar passing away at age 92. His sitar work and albums influenced John Coltrane, The Byrds and George Harrison in particular....
The Rock And Roll Hall Of Fame remains a joke and continues to withhold the likes of Deep Purple which was in the top 5 vote getters in the RnR HOF contest that was going on earlier in the year. However there's a bit of influence in who got in, since Rush is finally in the HOF due to a massive outpouring of fan support of getting them to Cleveland although they were in the Canada HOF years beforehand. Also Heart joins up and should have been in there sooner as well. Iconic songwriter Randy Newman, the late great Albert King, late great disco queen Donna Summer and Public Enemy round out the 2013 inductees. Quincy Jones and Lou Adler were the other two that also got in, Jones you pretty much know for being Michael Jackson's producer but of course Jones goes all the way back to producing Louis Jordan's Mercury sides and Lou Adler best known for producing the Mamas and Papas classic sides as well the early recordings of Jan And Dean but also forming Ode Records to which the likes of Spirit, Carole King and Cheech And Chong recorded for.
While the voice of the fans may have come into play, Rush And Heart may have been 1 and 2 on the most voted list, the negative comments have once again come out bashing of the choices, no Steve Miller, no Moody Blues etc etc etc. In some ways Public Enemy could be considered rock since they guest starred on some tracks by Anthrax or Living Colour even though they're more rappers. Randy Newman is rock and roll in the sense that his 12 Songs album featured Ron Elliot and Gene Parsons as sidemen and Newman song's were covered by 3 Dog Night.
Donna Summer may be the disco queen but with Giorgio Morader pioneered techno with I Feel Love and Albert King made great recordings for King and Stax. There's never going to be a perfect Induction of anybody, somebody is going to be left off and some of who gets in will be questioned. In the case of Rush, they boasted some of the most challenging prog rock out there and has one of the best songwriting drummers ever known. It just that not too many can take Geddy Lee's vocals at times.
But I'm sure we'll be commenting and bitching about the next batch of Cleveland's next rockers. In the meantime life goes on.