Starting out a new month and continuing with leftovers from the previous month, a return to the AZ singles that didn't make the first cut. Most coming from Half Priced Books in Phoenix. Still reeling over passing over the ten cent singles from Zia's on Oracle but got tired of the employee badgering. I also included a couple of late addition ads from Co Op in Moline. And if you're keeping score, All You Zombies from The Hooters was used in the recent Top Ten Of The Week (Columbia 38-04854)
1. White Horse-Laid Back 1983 (Sire 7-29348) Got played a lot around the top forty stations in the early 80s but nowadays Cumulus Incorporated doesn't even know this exists but they'll shove Tainted Love down your throat every chance they get. A Sire record still remained a cutting edge record but by then they signed Madonna and was going more toward dance music rather than the punk rock. It remains a curio listen
2. A Night Like This-The Romantics 1981 (Nemperor ZS6 70063) The Romantics had a hit with What I Like About You although it didn't take off till much later it seemed. Later followup hits didn't do much on the charts and this one didn't make it into the top 100. In fact the only radio station playing this was KUNI which made me go out and buy the album. 2 years later they'd hit the top ten with their highest charting single, Talking In Your Sleep. B Side was a live version of I Ain't Got You.
3. Don't Wait Up For Me-The Beat 1979 (Columbia 1-11211) Continuing the garage rock of the late 70s, we have a forgotten single from Paul Collins and company. Not sure if this was the actual single or the B side Working Too Hard was the plug but neither got any airplay.
4. Rag Top-The Kentucky Headhunters 1989 (Mercury 878-214-7) While the label tried to promote the A side Rock And Roll Angel, Rag Top did get some country airplay in the later months of 89. The Headhunters got away calling themselves a country band but in reality they were more southern hard rock than anything gracing country radio. In some ways they could be blamed for the trailer trash rednecks like Jason Aldean or Florida Georgia Line cluttering up radio like beer cans in the trailer court. But I don't think The Headhunters would ever go so low as adding guest rappers to their songs. Struck country gold with Dumas Walker, and still remain one of my favorite bands of that era.
5. I'm Gonna Feed 'Em Now-Porter Wagoner 1979 (RCA PB-11411) Porter was a big deal to country in the 60s just like Buck Owens was and Johnny Cash was and most of the 70s Porter continued to have influential stuff like the bizarre Rubber Room and the Merle Haggard duet of I Haven't Learned A Thing but by 1979 he couldn't get arrested and he tried to keep up with the times but it didn't work so well. This song is not one of his best and it bombed on the charts as well. Porter would eventually leave RCA for some half hearted comebacks for Warner Brothers and Dot before making one good album with Marty Stuart producing and helping out for Anti in the 2000's.
6. I'm Gonna Knock On Your Door-Eddie Hodges 1961 Eric 253 (original 45 Cadence 1397) A number 12 hit for this teen idol who recorded for Archie Bleyer's Cadence label with the usual Archie Bleyer arrangements and chorus line which makes it sound like it came from 1961. The Eric B side was (Girls, Girls, Girls) Made To Love a number 14 hit which I don't recall ever hearing on the radio. Sounds tailor made for Bobby Rydell or Frankie Avalon if you ask me and I don't suppose you did.
7. Silver Strand (People In Motion)-Baxter Robertson 1983 (RCA PB-13707) In the pop 80's there were plenty of pop stars around although they didn't get much attention unless they were Rick Springfield. Baxter Robertson has been somewhat of a Crabb mainstay with his Atco CD Mere Mortals, but he had an EP and LP out for RCA which have gotten good reviews from those who heard them. Nowadays he's better known as being a father to the guitar playing daughter in The Donnas. Interesting interview can be read here:
http://www.dangermanslair.com/blog?id=33
8. Morning Much Better-Ten Wheel Drive With Genya Ravan 1970 (Polydor PD 2-14037) Back in the day record labels were scurrying for the next Janis Joplin/Big Brother type of band that a few came out of the woodwork in the early 70s, Lynda Pence and Cold Blood, Tracy Nelson and Mother Earth and to a lesser effect The Joy Of Cooking which had Toni Brown and Terry Garthwaite, but to these ears the closest was Ten Wheel Drive featuring a wild singer Genya Ravan who go on to become more of the New York punk scene, producing the first Dead Boys album and reinventing herself on a couple 20th Century Records albums. Hardly anything is mention about Ten Wheel Drive anymore and this can be considered a one hit wonder although it limped up to number 74 on the charts. A product of the times.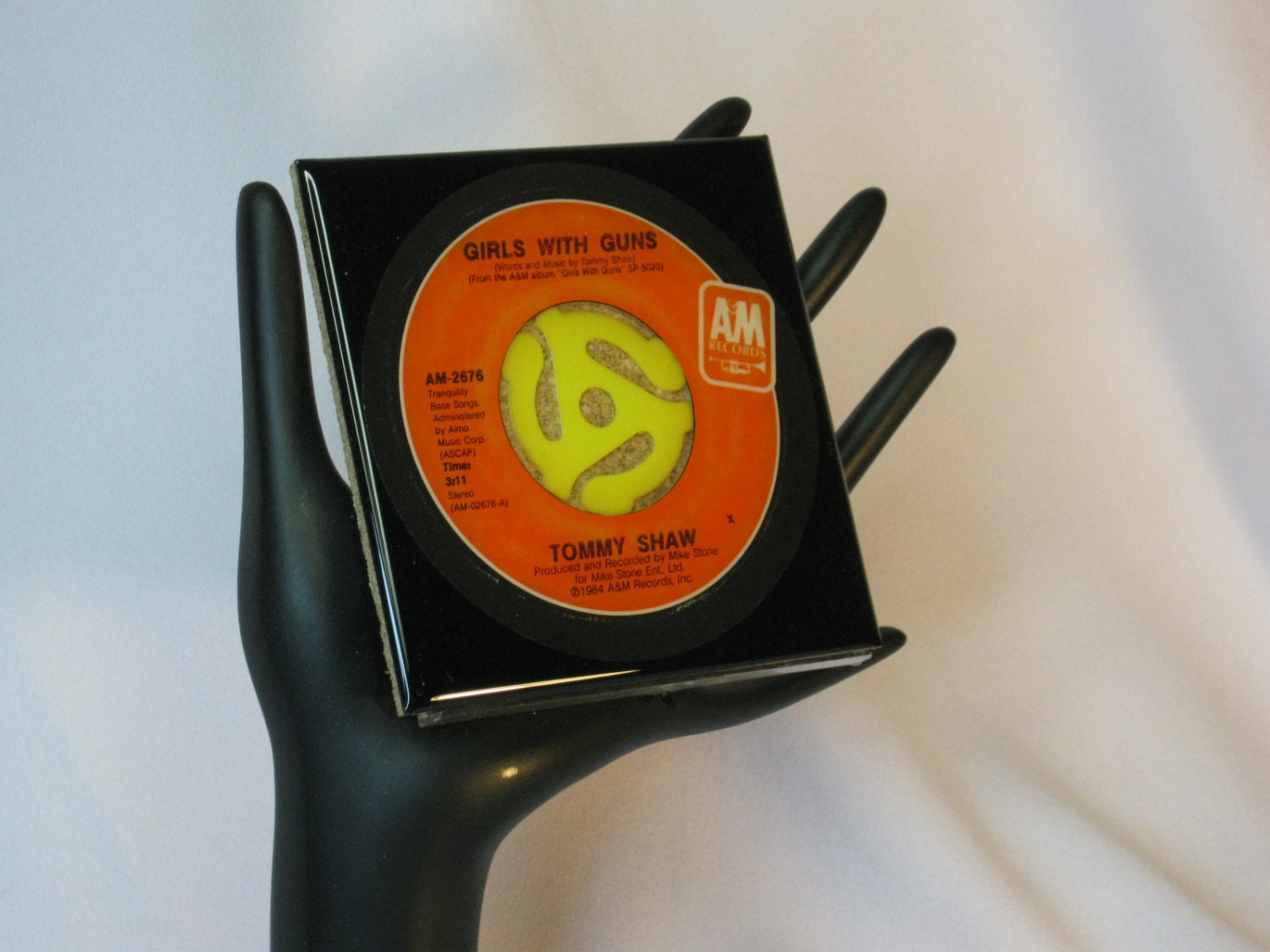 9. Girls With Guns-Tommy Shaw 1984 (A&M AM 2676) A little Tommy Shaw goes a long way and although he gave Styx a second wind and different vocalist counterpoint to Dennis DeYoung and James Young, he has the type of vocals that can grate on your nerves (Man In The Wilderness anyone?). And Styx themselves wore out their welcome on The Grand Illusion (put me down as a fan of their Wooden Nickel albums and Equinox, the first A&M platter. But Tommy went new wave on us and put out a excellent single and a pretty good album of Girls With Guns but my attention span went elsewhere on the next album and somehow got suckered into buying the Damn Yankees album (featuring Jack Blades and Mr. Hot Air himself Ted Nugent) thinking it was rock and roll but it was hair pop more so. They were actually good live though. But still Shaw's finest moment is Girls With Guns. I could listen to this forever, unless Cumulus sticks it on the overplayed 200 songs. Then we might have trouble.
10. Tell That Girl To Shut Up-Transvision Vamp 1988 (UNI-50001) Our final submission of 45 finds is a cover of the Holly And The Italians song which got some MTV airplay on 120 Minutes (remember that show? If you do you're old as me) but chartwise sputtered to number 87. A big deal back then, this was the lead off single for the revamped Uni Records which originally was a big deal label in the 60s and 70s before MCA took over, and then in 1988 decided to revive the label with a some new artists to boot (Holly Johnson, singer of Frankie Goes To Hollywood made a crappy album for Uni, the infamous goth band Swans who made the somewhat accessible album The Burning World which got cut out big time and CDs sold for big bucks before Water Music reissued it last year, and Steve Earle's Copperhead Road, to which Earle wanted to get into the rock market rather than country). The great Uni experiment only lasted a year and T.Vamp and Earle would return back to MCA for their next albums and Swans and Holly Johnson got kicked to the curb. Swans have continued on.