This top ten of the week probably won't get the high ratings the last couple did, or basically Sting Ray Bikes Are Go has been overtaking the competition. I'm guessing Ivy Doomkitty's photos have something to do with that since she's been down at the world famous San Diego Comic Book Convention to which I'm sure Erin at Alter Ego was at this weekend. She usually goes.
https://www.facebook.com/pages/Alter-Ego-Comics/60316856103
This week's ten song of note are all county related which came from a conversation with Miss Sassy and really, most of my life revolves around the 45 and rock and roll but a good share of growing up was listening to KHAK when they were playing the honky tonks and not this garbage from Hick Poppers that sing stupid shit like I taste beer with a bit of lime.
Oh really, Kenny Chesney sang that? Oy Vey!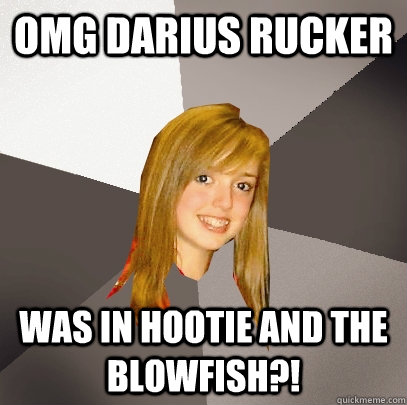 This week I was exposed to a lot of country music while out and about and of course Darius Rucker might have something to do with that since I seen him in Davenport Friday Night on a vacation from hell printers. Or Keith Urban playing to a sold out Jones County Fair on Saturday Night. Or remembering that country covers band playing Big And Rich. More country stars will be coming out this way at the Mississppi Valley Fair with Dwight Yoakam playing one night. The others are Toby Keith, Josh Turner, Lynyrd Skynyrd and Diamond Rio. That's in two weeks y'all. That's in Davenport y'all. Bring shotguns to shoot the crazed Red Wing Black birds if you go.
Glen Campbell is not doing very well, his daughter reported that he had trouble operating the TV remote. Alzheimer's is a shit disease and it's sad to see one of the best guitarists in music losing the battle. Too bad the powers to be can't find a cure for that, but they can help you get it up with those ED drugs that make watching TV a pain in the can to watch.
Refer spam. Or maybe we're not getting the views as we thought we were getting. Or maybe we're not as popular as we thought we were. Never click on a referring URL or link ever again.
http://productforums.google.com/forum/?hl=en&fromgroups=#!category-topic/blogger/RrxXxyoSdvU[1-25-true]
So anyway, I have been peppering the top ten with a song or two from the CW side of music but this week we will do a whole ten songs of twang and barroom mayhem. But I stop short of the guest rappers and girls shaking it in a truck. Most of the songs are basically from the 70s but there's a few surprises from all decades of my life. Last week Blake Shelton and Narvel Felts were Country's entry to the ten. But let me clue you on the teen years of myself; I was the primary record buyer and my dad would give me about 10 dollars to go find him some music to listen to and I'd buy the used jukebox 45s up town or at Kmart or The Giant Store and I would find him some interesting choices with Tommy Overstreet, Crash Craddock and of course Freddy Fender, the old man loved his music for some reason. Not that it was all bad, Sugar Coated Lovin was a fine 1977 rocker and some forgotten one hit wonders from Randy Connor (Sometimes I Talk In My Sleep), Lois Johnson (Lovin You Will Never Grow Old), Margo Smith (There I Said It) and even he managed to take some of my other 45s Jamie Ryan (Sunshine Blue), or Charley Pride (Does My Ring Hurt Your Finger).
By the 1980s, I think the old man didn't care much for country and he listened to the older acts, Slim Whitman for one, once in a while something new would capture his attention The Rovers' Wasn't That A Party but I think in his older age he listens to Daniel ODonnel. The new country sounds of Randy Travis, George Strait (who started around 1979 and still remains part of MCA Records, a rarity) plus Steve Earle and Dwight Yoakam was getting some radio airplay but Earle's wicked ways turned out to be poison for KHAK and most of the time they only play Guitar Town when you request Steve. Later 80s artists like Foster And Lloyd added some power pop rock to the country and had a hit with Crazy Over You but the lesser known stuff was better. Reba ruled the charts as did Willie Nelson but Waylon Jennings and Johnny Cash was on their last go around and country radio ignored them except Jennings did score a hit with Wrong for Epic in 1990.
The old guard was still around, George Jones, wore out his welcome with Epic moved to MCA for a few album and then score his last top ten with Choices in 1999. By then the influence of The Eagles was beginning to take hold in the up and coming bands, although they would talk about Hank or Hank Jr. most of their music was more Cal pop than Your Cheating Heart. Brooks And Dunn started the line dancing craze with the idiotic Boot Scoot Boogie, Billy Ray Cyrus angered the traditionalists with Acky Breaky Heart which owed more to goofy southern rock. And then there was Garth Brooks, whose marketing ploy made his the biggest selling artist of the 1990s but his manipulation of his music pissed everybody off and they wished he would go away. And then there was Shaina Twain after one so so selling album, got Robert John Lange to produce Come On Over and eventually married (and divorced) the music maverick.
I could quote the 2000s and the big decline and this decade's even bigger decline thanks to Scott Borchetta's Big Machine Records and their Bubba themes of boobs, butt, beer and big old pick up trucks. But throughout the past couple decades I picked and chose music from Black Hawk, Dwight Yoakam, Confederate Railroad, Southern Pacific, Miranda Lambert and Montgomery Gentry. But new country doesn't treat artists like the majors used to do back in the 50s and 60s to which Eddy Arnold or Porter Wagoner could hang around for 20 or 30 years running. Even Montgomery Gentry is trying to buy into the Bubba crowd with Titty's Beer. A sad way to end a career ain't it?
A country top ten.
1. Me And Bobby McGee-Jerry Lee Lewis 1971 Jerry Lee counts it off and thus begins another cover of Kris Kristofferson number that everybody pretty much recorded, from Janis to The Dead to every other country artist in the that time period and we love Janis but I'm sick of hearing said song on classic rock radio. Aimed for the country market with The Nashville Edition adding poppy background, The Killer takes matters into his hands on the fade out growing out an OOOOOOOOOOH in rock and roll defiance. So there but this song appears twice in 2 straight albums, the lackadaisical Would You Take Another Chance On Me and the more back to the roots rock of The Killer Rocks On. Some say that had he not married his 13 year old cousin he may have been the king of rock and roll. Little Richard begs to differ.
2. Another Place, Another Time-Don Williams 1987 If you listen to country radio in the late 70s and most of the 80s chances are you would have heard Don Williams and his smoking slower sides of hits although Tulsa Time did introduce itself on KCRG and Till The Rivers All Run Dry even got covered by Pete Townsend and Ronnie Lane and Eric Clapton played on that. But in the 80s the hits quit coming and Don found himself on Capitol for this forgotten single. It's late back good.
3. Third Rate Romance-Amazing Rhythm Aces 1975 Another band that crossed over to the country side of things the Aces were more R and B influenced than country twang and were blessed with the talents of Russell Smith and they recorded for ABC (which somehow the masters were claimed by Sony Music) and their albums have fallen in and out of print on CD for years. Real Gone has reissued the first two albums on one CD and I'm sure they will continue to do that as time goes by (originally Collector's Choice reissued their albums till Gordon Anderson left to become head of Real Gone) but I have the Stacked Deck CD on the little known and now gone Valley Entertainment which based itself out of Santa Fe New Mexico. Sometimes you can still hear this song on KHAK (although since it doesn't have anything about trucks or pontoon boats or guest rappers they may stop playing this all together) or even KMRY plays it.
4. My Shoes Keep Walking Back To You-Ray Price 1977 A big hit on Columbia back in the 50s, Price's hard honky tonk country was more akin to Hank Sr or Bob Wills and then Ray reinvented himself with pop standards with Danny Boy or For The Good Times another KCRG crossover hit. And then repeated the lush pop with I Won't Mention It Again or She's Got To Be A Saint but by 1976, Ray moved over to ABC Dot and while continuing to flirt with pop (the late Jim Foglesong seemed to drop pop songs as producer on whoever he was producing if not facing duties as label head of Dot at that time) Price took an afternoon off and got some of Nashville's finest musicians to do a return to the honky tonk sound on the 1977 Reunited album. Not a whole return to the glory days, the sound was way too polished and most of the songs Ray have sang for so long, he could do them in his sleep. Record didn't do much but Ray did return back to Columbia but his better stuff was with Willie Nelson.
5. Merry Go Round-Kacey Musgraves 2013 The old guard complains that the new country is not like the old country but the times have changed and hotshots like Colt Ford or the odious Florida Georgia Line were not even born when the sounds of the 60s and 70s were on the airwaves. The drinking at the honky tonks or cheatin love songs have been replaced by Titty's Beer and Cruise and shake your boom boom pick up truck speakers, and bars have been replaced by seedy trailer courts. Even Alan Jackson today can't get a hit on KHAK anymore. The skeptic that is me anymore have no use for a Luke Bryan, a Brantley Gilbert or Jason Aldean. Yesterday's Charley Pride is now today's Darius Rucker but if you think guys got it rough, the women of country today are even more disposable and forgotten, just as the Corn Fed chick who's now back at her trailer court. Out of Pink Flamingos Way comes Kacey Musgraves, who's new album Same Trailer Different Park has been one of the most listenable country albums of today and I suspect that KHAK has been playing some of her music, as well as NPR. Her songwriting is like that of Miranda Lambert, very sassy, point of view and no bullshit. Don't be surprised if her album makes it to the best of the year lists. But by then Cruise by FGL might still be number 1. Which means the end of the world may have happened. BTW: somehow this is the inspiration of Tad's latest:
http://tadsbackupplan.blogspot.com/2013/07/699-8-by-40-foot-trailer.html
6. Honky Tonk Wine-Wayne Kemp 1973 Old country stations a long time ago, varied their music like rock radio did with the lesser known and in today's world the Warner Mack, Carl Belew or Randy Conor would be trivia questions for the music expert or audiophiles. Kemp was a journeyman C&W songwriter that managed to top at number 17 on the country charts with this song about breakups and booze which is a better listen over trucks or baby you a song. What makes this song goes is the fuzz tone guitar bouncing along a honky tonk piano. Written by the late Mack Vickery (Rockin My Life Away).
http://www.youtube.com/watch?v=Sq-1p99Gf_E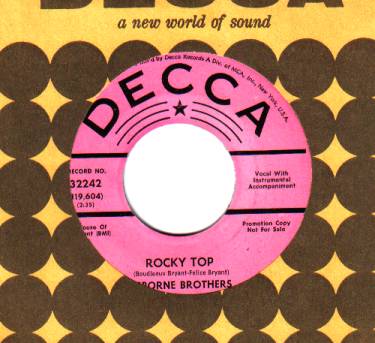 7. Rocky Top-Osborne Brothers 1967 It's unthinkable in this day and age that new country would ever play bluegrass like they did back then but there was top talent in bluegrass in that era. Bill Monroe was still alive and doing fine, Flatt And Scruggs were incorporating bits of Dylan into their music and Jim And Jessie was just as good if not better. This became one of Tennessee's state songs. Lynn Anderson competed for the country top ten with her version of said song in 1970. Song would take on a new life in football stadiums in Tennessee and of course the bars. Country's version of Free Bird so to speak.
8. Lovin On-The Bellamy Brothers 1978 Written by Ben Peters, T G Shepherd had a 1977 minor hit with this on Hitsville/Motown but as much Barry Gordy likes to tout Motown soul, I have yet to see anything on CD on the Motown country labels Melodyland and Hitsville. Problem was Gordy didn't know how promote country very well and most of the acts were former 60s stars like Pat Boone and Dorsey Burnette who had a 1975 cult hit with Molly (I Ain't Getting Any Younger) but T.G Shepherd was the biggest selling artist of that time on that label before moving on the better promotion on Warner Brothers. Meanwhile, The Bellamy Brothers had a giant hit right off the bat with Let Your Love Flow but later singles charted poorly (Hell Cat and Highway 2-18, the latter I can't imagine why that didn't do much better than it did it didn't chart) so basically from here on out they focused on the country charts. Although they were on Warners, they were part of Curb Records and the brains changed producers from MOR hack Phil Gerhardt (Lobo) to Pop hack Michael Lloyd, who added enough country flair although he would get jettisoned in favor of Jimmy Bowen. Lovin On did managed to hit the country top 30 but the next single would established them as true country stars: If I Said You Had A Beautiful Body Would You Hold It Against Me.
9. Let The Chips Fall-Charley Pride 1968 The black country star is rare as they come and I can remember a few of the beginners, Big Al Downing for one, Stoney Edwards, Clive Francis, even DeFord Bailey from the early 1920s, or Rissi Palmer, one for the very few black female singers, today Cowboy Troy and Darius Rucker are in the charts, mostly it's Rucker and his Wagon Wheel song, but the biggest black C&W of them all remains Charley Pride, one of most nicest guys that you would ever want to meet. Made tons of albums for RCA, his early albums remains the best if Jack Clement or Bob Ferguson was producing.
10. I'm Gonna Knock On Your Door-Billy Crash Craddock 1971 The problem of country radio today is the mass forgotten country artists that was part of country radio yesterday. Hardly anybody plays Porter Wagoner anymore, or Don Gibson who to me was the greatest songwriters be it in rock or country or jazz. The Roy Druskys, Dave Dudley made plenty of albums in their heyday and all we get is an half hour best of that a lot of the hits were left off. One of the glaring examples of this is Billy Crash Craddock, a rockabilly star that started out on Columbia and then moved over to Cartwheel and continued to make rockabilly styled for country music like this Eddie Hodges jewel. In my younger days Craddock would make decent remakes of cover songs such as Knock On Your Door or Slippin And Slidlin' for ABC when they managed to purchased Cartwheel. Later in the 70s when ABC placed him on the Dot roster, Billy moved into the less interesting ballads (Broken Down In Tiny Pieces, Easy As Pie) and I didn't pay much attention. Later moved to Capitol, returned to MCA and then Atlantic although he didn't substain enough record sales to warrant anything besides a one shot album deal on the last two labels. Razor & Tie put together a half assed best of that didn't stay in print very long. Blame Universal for that.
5 more from the honky tonks and seedy side of life
I Just Started Hating Cheatin Songs Today-Moe Bandy 1974
I Haven't Learned A Thing-Porter Wagoner and Merle Haggard 1977
Wild Irish Rose-George Jones 1998
Me And Paul-Doug Sahm 1972
Drift Away-Narvel Felts 1973
Other news: Zia's Records is planning to open up a new store on Mill and Southern Streets in Tempe sometime soon and their University store will end up being a place where they'll put their Clarence bins ie cheap stuff
http://www.azfamily.com/news/Zia-Records-to-open-new-location-Fall-2013-216512581.html
Well Arizona radio is going to start sucking even more now than it does. According a report KUPD, KDKB and KLSX and two AM stations have been bought by Hubbard Broadcasting of Minnesota which continues the tradition of The Telecom act of 1996 to have all these corporations buy out and not make local the radio stations that you listen to. All three FM stations are rock based, with KUPD modern rock, and KLSX and KDKB classic rock more or less. We can continue to lament about the loss of decent radio so they can all sound the same. This is the future as Hubbard tries to become another Cumulus or Clear Channel in the annuals of Corporation Suck Radio.
http://www.bizjournals.com/phoenix/news/2013/07/17/phoenix-radio-stations-sold-in-885m.html
Everybody's favorite baby you a song band Florida Georgia Line will be playing here in CR on November 2. To which Cruise might still be the number 1 record for 78 weeks in a row. No accounting for taste. Hilary Scott, Lady Antebellum singer gave birth a girl. In the meantime, Narvel Felts even in his 70s can still hit that high note on Reconsider me. But this performance comes from a undated show probably around the late 90s or early 00s.
http://www.youtube.com/watch?v=AZKjH8-AF3s
This is not country: