And so a month removed from the Arizona trip and after returning to fight crappy printers, cutters, towers etc. at work I decided a day off was in the cards. Where to go what to do, plenty of fairs going on. In the morning I was chatting away with Sassy and taking suggestions for the next installment of top ten of the week. Though I have from time to time threw in a country song or two it's kinda like the blues or jazz, I add something to add a bit of variety into the mix, and I have been listening to quite a bit to warrant a top ten country songs of the week We'll see.
If Sassy had a working record player I could have found the majority of stuff she's been listening to on the old country channel she used to have up. John Conlee here, Oak Ridge Boys there and of course plenty of Kenny Rogers and Charlie Rich in the bins. Found The Many New Sides of Charlie Rich on Smash in great shape but don't understand the record price procedure of the Salvation Army there. Makes no sense of having 6.95 on a scratchy old Motley Crue album if it looks like it's been on interstate 80. But it took a while for me to get going since I was talking to my mom and at her age she likes to ramble on and talk about the same old things that drive her crazy, namely the stupid neighbor across the street and so forth.
The front went through here as I ventured down the old road to the usual idiots on the road and on US 30, a two lane hell ride if the road is busy. No trains to be seen and a bunch of assholes from Illinois driving down the highway driving 80 MPH and taking exception to the ones that do drive the speed limit. Of course all three of them showed me their grand total IQ passing me like I was standing still but had to laugh they got stopped by a one lane road and had to wait a while as the pilot car didn't get there yet. I always get the last word and cheerfully gave them a backward peace sign as I made a U turn and went the other way. Later on Frat boys.
Ah Davenport was a pressure cooker at 96 degrees in the shade and the sun boiling people to a crisp and with a car with no AC it gets to be a mobile sauna. But it didn't really stop me from dinner at Cracker Barrel and then on to the stores that matter. But thank goodness Ragged Records had their AC on but of course I bought a few things and then ended up walking back to the car, getting sunbaked and attacked by those fucking Red Wing blackbirds who continued to attack any and everything that was in the area of their trees and nest. They're so blasted territorial they'll attack themselves down there. Flying shit bags was even attacking the bike rider who rode past me. Worthless birds.
I miss the FYE stores in Arizona, the Moline one simply doesn't have much in terms of CDs but then again nobody does anymore. Best Buy's selection is getting more thinner than the hair on top of my head. It must be torture to be a FYE sales associate, to have to hear piped in crap rap and movie promos. They didn't have the new Queensrycle, nobody did, except Best Buy and they had the box set and I only wanted the single Cd. But Co Op in Moline did.
Music stores a becoming extinct and it shows everytime I return to Davenport or Arizona or Madison. In my younger days, Relics or Record Realm had their own personality. Co Op in Moline is more closer to the forgotten stores, and like Ragged has enough inventory to make sure that when I do return a half year from now that they're have something worth picking up. In Ragged's case that mess of a flood that they have, that the 45's room was less cluttered and things filed away but I really didn't have time to really look through their inventory. I was a little jealous of the fact that both Co Op and Ragged Records continue to get people bringing stuff into their store and seeing all them forgotten LPs and CDs I had to wonder if I'm so good at buying the obscure, why the hell don't I have my own store? Maybe I should have taken over Relics when Marcus had enough.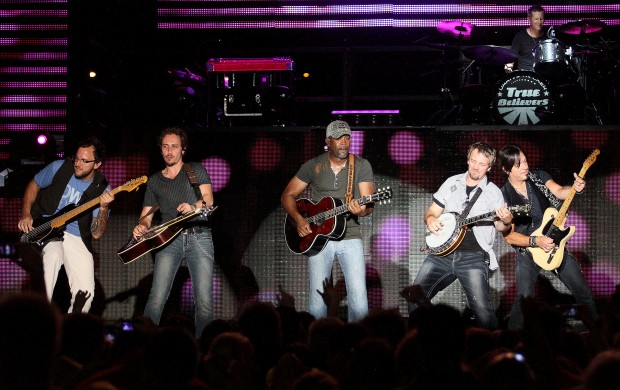 A strange black cloud came out of nowhere around 8 when I stopped to do the bi yearly stop at Big Lots. A dry lightning storm and plenty of rumbling thunder but about 10 drops of rain all told. But the clerk was gushing over that gigantic double rainbow outside. But by then I went back down to the river and ready to take on the mutant red wings with a can of Raid and a air horn but by then the sun went down and heard plenty of music in the background beyond the baseball stadium. Walked on down and it was Darius Rucker, aka Hootie, in town to play at the Heartland Jam in that area but most of the noise was coming from a faceless country cover band in the Hooters tent. Only song I could make out was Save A Horse Ride A Cowboy and shaking my head took a place by the river to watch the boaters, lightning from the thunderheads and a moon peaking through. I hung around long enough to see Darius Rucker come upon a stage at around 10 oclock (a real late start) and did something that was more rock than country till the fiddle player started sawing away. Rucker was good but at the end of the song some rag would yell out HOOTIE in the background till somebody told me to shut up already ;-)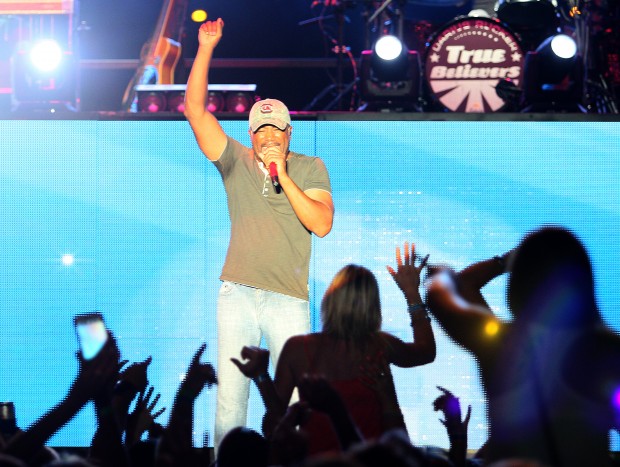 The crowd was engaging along with Rucker and although most of what I heard was slow to mid tempo which was beginning to bore me a bit, a couple surprises was that he did a cover of The Joker to which the crowd drowned him out with the lyrics (after all some Cumulus/Clear Channel owned station is playing it right now) and yes, he did a Hootie And The Blowfish song, I Wanna Be With You. But he did bring the house down with his hit single Wagon Wheel. Plenty of whoops and hollers over that. But by then, I was down the road, getting out before the crowd did and that included a stop at the 24 hr Arby's across from the World's Biggest Truck Stop off the Walcott exit and filled the car up with 3.45 gallon gas. Somewhere in Davenport there's a Marco's Pizza but maybe the next time I'll find it and check it out. I do miss the one up here that used to be at Town And Country.
Final thought: The Heartland Jam continues on the weekend with Jerrod Neiman and Rodney Atkins. Phil Vasser and Kelly Pickler were the warm up acts before Rucker. Didn't go to Motley Crue but somebody else did:
http://hooplanow.com/2013/07/21/review-motley-crue/
Road tunes:
Iron Butterfly-Metamorphosis
Carnival Art-Welcome To Vas Llegas
Boy Girl Boy-Freddy King, Lula Reed, Sonny Thompson (still in longbox remember those)
Captain Beefheart-Doc At The Radio Station
Emmit Rhodes-Listen Listen (Best Of)
Queensryche (new album)
Robert Palmer-Sneaking Sally Out The Back
Collective Soul-Youth
Allman Brothers-Enlightened Rouges
Sonny Rollins-Worktime
Meat Puppets-Huevos
Dream Theater-Train Of Thought
Doug Sham And Band
Jann Wanner: Asshole (original link doesn't work anymore so it was deleted)
Funny how these so called rock visionaries when they get old and full of money that they become the Establishment that they railed against in their younger days. The Rolling Stone Rock And Roll Hall Of Fame has been a laughing stock for the past 10 years at the least with a questionable amount of who gets in and who doesn't. Wanner had to take a bitter pill when Rush was elected by the fans but I'm sure as long he's alive The Moody Blues or Yes don't stand a chance. In a attempt for shock value RS made the Boston Pussy Bomber the cover guy. By being outdated in music values, Jann Wanner goes for the extreme. His right to release it to the public. My right to not buy the fucking mag. Lemmy salutes you piss head.