Winds of change blowing here, 18 above as I write this. I don't think there's much change in the top ten since I been listening to the new Aerosmith and more Frank Zappa reissues that the top ten is in danger of repeating itself again. Hopefully I can try to add a bit more different artists into the fray. BTW Tad and Drew I did read your comments on the new Neil Young CD. Yep Drew when Neil and the Horse get together expect those long lengthy jams although I'm still shocked that Madison's Public Radio station played the whole 27 minute Driftin Back. They're not Cumulus owned nor Clear Channel, the way I like it.
Took me six weeks but finally completed listening to the last AZ CD, Bedtime Beats or Sleepy Jazz numbers that came out on Rhino years ago. I wouldn't say it's putting me to sleep but rather reminds me of being in the lobby of a expensive hotel or resort. All I need is one of them waterfall fountains to make it all complete.
Tad and Rastro have an interesting goings on at this site
http://www.fearandloathinginknownspace.blogspot.com/
I think Tad is trying to recover from the box of CDs that I sent him or least from Caveman Rock although I'm positive that Caveman Rock was the inspiration for one of those entries.
1. ROCK-Garland Jeffreys 1981 He never became much more of a cult artist at best but Garland made some nifty albums for Atlantic, A&M and the glory years at Epic to which he was backed up by members of the famed Rumour and E Street Band for the classic Escape Artist to which should have been a hit. Garland put a new album earlier this year and I have to find it much less hear it but The Rumour has reunited with Graham Parker for a new album coming out next week. Getting long in the tooth and old but ain't we all? Welcome back guys.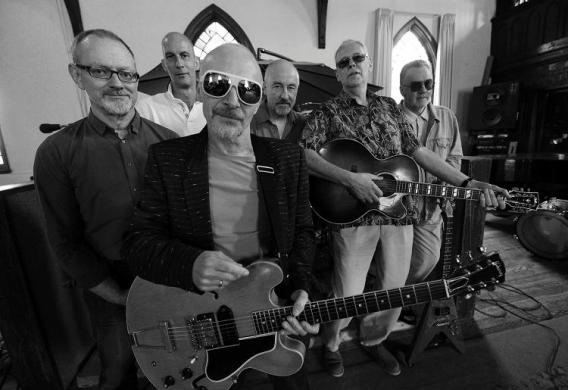 2. Close Enough For Jazz-Van Morrison 2012 No I am not a big Van Morrison fan, got burned out by the overplayed Brown Eyed Girl or Domino and you think that's the only things Van ever did but he's been around forever and continue to do things his way. His new album Born To Sing No Plan B does a lotta old man talk bitching about pseudo jazzers and materialism and good thing he included the lyrics with this album, can't understand what the hell he was saying half the time. Nevertheless it's a pretty good album and I don't think Van ever did a bad album, I still have issues with Astral Weeks although Starman likes that album much more than I ever did. Of course Van sings better than Bob, even you and I can sing better than Bobby D but I'll give Morrison credit, he knows his music and he still brings it. You should own this record too.
3. Howling For My Darling-Albert King 1961 I'm more familiar with the Howling Wolf version but this came out a couple years before the Wolf's during King's less than successful Chess years. Albert had some hits on King Records but he was a journeyman up till he finally settled with Stax Records a few years later and scored a hit with Born Under A Bad Sign with Booker T and the MGs backing him up. The CD of this I got in Dubuque was scratched and didn't play but a fly by night import label Folio partnered up with Universal to issue certain Chess albums to which Door To Door got reissued but the liner notes of who played what are nonexistent. I just might keep the US version booklet since it's better detailed (though not by much). George Thorogood covered this years later.
4. Sunless Saturday-Fishbone 1993 Black rock and roll actually, though Fishbone owed a lot to Ska and Sly but they threw everybody a curve and played this as a long lost Soundgarden track back when KRNA played this song but not anymore (they don't play black rock and roll on that station unless it's Cult Of Personality by Living Colour). Sounded more prog rockish than grunge and Fishbone could do it all, which was also their downfall.
5. Revenoor Man-George Jones 1959 George may have been country honky tonk but he had a bit of rockabilly in him as this little rocking tune showed the masses to which the Beat Farmers did a cover of said song, finding it on CD is another story. It didn't make the 2 CD Anthology that Polygram put out but it did appear on the cheaper comp, The Mercury Years. I found the stereo version of The Novelty Side Of George at my second home over the weekend and the problem is it was the fake stereo which means mono on one side of the speaker and reverb on the other. It's one of my favorite George Jones songs. Written by one Donnie Young who you would all know later as Johnny Paycheck. Young also sings background on this number.
http://www.youtube.com/watch?v=-mU_tLmlRuQ
6. Trouser Press-The Bonzo Dog Band 1968
http://www.youtube.com/watch?v=xoWs8ER6PJo
You're so savage Roger. Esctasy Dude. Predates Monty Python but it was so great that there was a magazine named after this song. Of course it came from the UK. You wouldn't expect that here in the US with Donald Trump taking up precious time and breath with his bullshit. Press those trousers Donald.
7. Heart And Soul-The Monkees 1988 The best song off that crappy comeback album they did for Rhino Pool It! to which somebody at Friday Music thought so highly of that they reissued it and added a bonus DVD. Plenty of horror stories behind this one, They wanted Nick Lowe or Dave Edmunds to produce this, both refused and they ended up getting the engineer who also produced The Rumour but the songs that the Monkees were given were terrible. This song did get a bit of airplay although I don't recall it much nor the video for this. A wasted opportunity although it was the best selling original album that Rhino put out. Mike Nesmith would return to help them on the 1996 Justus album, which was better sounding but sold less.
8. Psychedelic Pill-Neil Young/Crazy Horse 2012 A holdover from last week's top ten and besides his birthday was Tuesday as well. Two versions appear on the new album, I think we'll go with the alternative take since it's more straightforward rock and roll, which is what they do best. Over 60 and they still play like their 34 (or younger).
9. Slow Turning-John Hiatt 1988 For somebody who only a passing interest in his music I seem to have lots of his albums on the shelf, of course that's what happens when you go diving in the bargain bins the past few years. Long time ago, 3 Dog Night covered Sure As I'm Sitting Here and that started a long and winding career for Mr. Hiatt who continues to record, he has a new album out which I haven't heard. Seems like anything New West puts on CD they have to include it in crappy digipaks. Geffen had no clue how to market him so they cast him aside and he went to A&M to what I consider his classic years, Bring The Family despite an all star lineup was lackluster mostly but Slow Turning, the album Hiatt hooked up with Sonny Landreth and the Goners and the results was much better. The title track got plenty of airplay on the legendary 99+. KFMH, Captain Steve Bridges was known to play a John Hiatt block set from time to time. Bridges wold later move over to KCJJ where he still can be heard. Sadly KFMH became a crappy country station and now is one of many shit stations owned by Cumulus. The decline of radio to the bottom of the outhouse.
10. Hallelujah-John Cale 1991 He's still around, has a new album out and creepy look to boot. I don't know what it is when you turn over 60 that a soul patch or a goatee going to do anything for your career but make you look even more creepier than you actually are. But then again that's nitpicking on my part. I couldn't consider growing an old gray brillo pad on the chin and scaring the kids in the hood to GET OFF MY LAWN! Cale hasn't made an interesting album since the Brian Eno Wrong Way Up over 20 years ago. His finest moment comes from I'm Your Fan Leonard Cohen tribute album to which was used in the sad part of the original Shrek scene to which Donkey meets the wronged Dragon and patches things up eventually. Jeff Buckley probably had more people liking his version of the Leonard Cohen number but I thought it was too over the top. Cale's version remains the definitive. Now if only he shave off those three scrubber hairs off his chin.....
Other scrubbers:
Ugly-Fishbone 1988
Quicksand-Blackbird 1992
Can't Stop Loving You-Aerosmith/Carrie Underwood 2012
Idiot Box-Incubus 1997
Words-The Monkees 1968
Happy trails to INXS who are calling it a day after 35 years of touring but have left the door open for more studio recordings. I actually liked Switch, the J D Fortune sung album. It's better than the last album to which different vocalists tried their hand at singing Mike Hutchence's songs which did not work. The go to albums remain Listen Like Thieves and the Rhino Best of, Kick has never been one of my favorite albums anyway.
RIP Denna Kelly fellow classmate who was in 6th grade with me at Longfellow in Marion. She was like a tomboy, very brash very bratty at times. I recall one particular day that I was selling scratchy records at a garage sale and she made a comment that she was going to be my girlfriend. They usually say that at one time or another but nothing really happened. Last time I saw her was at Family Dollar and she was working the cash register and we talked a good while. She would eventually find a better job and later moved to Belle Plaine. She will be missed.