I don't believe what I have seen the past couple days.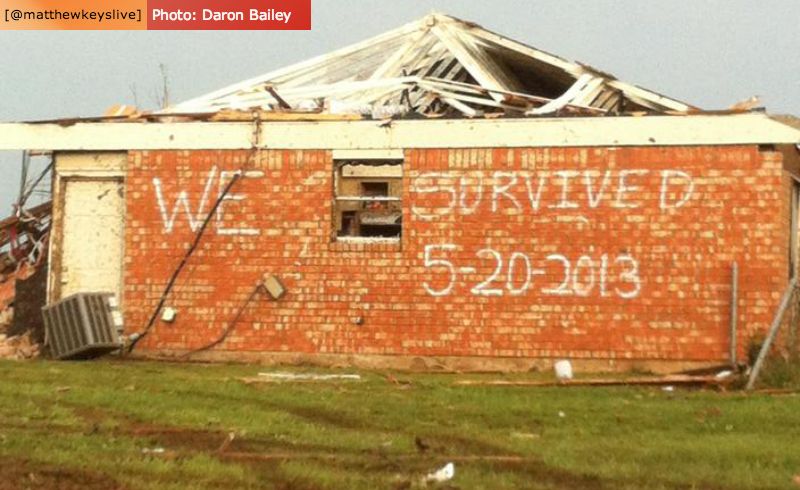 I don't live in Oklahoma, got an Aunt that lives in Choctaw and every time this time of year we worry about her well being. She lives in ground zero of Tornado Alley. Oklahoma City. Moore is a suburb of OK City, and they have been hit once again with another F5 tornado on Monday, leveling buildings, schools and whatever in its path. It started Monday at 3:05 when a twister came forming across Newcastle and turn big and violent in our very eyes. At least a mile wide for 22 miles and tore each and every thing in that area.
I've seen tornadoes from various reports and films and newscasts. I have witness some that came too close to me, Belmont Tornado, the 1968 Charles City/Oelwein F5 terrors, The 2008 Parkersburg/New Hampton monster that scarred 68 miles of Iowa soil, and smaller tornadoes outside of Anamosa that made a mess out of the lowlands before the Wapsi on 151 but thinned out before it got to the Wally World. I seen reports of the Joplin 2011 monster, seen The St Louis tornado smack into the airport and documented most of them through various blogs. The 1998 Washington Iowa Tornado that channel 9 followed as well. You don't forget them as they form in front of you.
I wasn't around when the worst tornado of all time The Tri State Tornado of 1925, to which a series of twisters ripped through Missouri, Illinois and Indiana, was too far from the 1974 outbreak that made a mess out of Xenia Ohio. I rather not see a tornado up close and personal, certainly not staring outside the house and watching it rumble toward me and seeing nothing but darkness and destruction bearing down. I can't picture what the folk at Moore Oklahoma were thinking when this monster took shape
Moore has seen 3 major monsters in 14 years, 1999, 2003 and ten years later the 2013 monster that may be the end all of storms. But the Sunday before, two twisters formed in that area but spared Moore, one formed in Edmond and then tore up places and towns along route 66 and caused considerable damage. The other started around Norman and then got bigger and meaner as it hit behind the forest trees along highway 9 to Shawnee and destroyed a mobile home park.
A picture is a thousand words. This is the end of the world coming at you at 200 MPH.
http://i.minus.com/iluhrlDRbUSAQ.gif
On the ground for 40 minutes and grown a mile an half big, that's a EF5. Comparing this to the one that started in Norman and plowing through Swanee had perhaps the strangest and bizarre hook echo that borderlined upon being a hurricane, a small eye as winds going counterclockwise in a display of intense and extremism of wind sheer.
Really, you never want to see this up close. In essence, the folks in Moore will overcome this and rebuild again like they did back in 1999 and 2003. Sad to say it's a sad fact of life that extreme weather has a way to change things and take away what one once had. Every tornado that does damage is bad and the Moore Tornado is no exception but this 2013 monster will never be forgotten and might rival the 1925 Tri State Tornado as one of the worst ever.
The Shawnee Tornado approaching:
I 40 damage from Shawnee Tornado