And now.
The Top Ten:
1. Bone Machine-The Pixies 1988 Mark Prindle was talking about albums that you're so sick of hearing that you never want to hear them again and Surfer Rosa was one of the albums. Never really knew about them since rock radio seldom plays The Pixies outside of Here Comes Your Man. I come to enjoy Surfer Rosa and may want to check more Pixies stuff in the used bins if and when I come across them. I'm sure I'll find a few in Arizona.
2. Hollow-Alice In Chains 2013 Jerry Cantrell sings a lot more on this album than William DuVal, which comes across like a Jerry Cantrell solo album with better production (Toby Wright, producer of choice for AIC and Cantrell during their later years, his album's seem to lack clarity). The new guy Nick Raskulinecz (Foo Fighters, Rush) channels his inner Dave Jerden and it sounds like if Jerden would have produced it. Nick also produced Black Turns Into Blue and I like that album more than the new one but then again had you read the last blog you would have known that. In the meantime the bastards at No Deposit Casino Codes continue to promote my number 3 blog No Deposit Casino Site Suck. Oh the irony.
3. Moving-Howlin Wolf 1973 Chester Burnett, the wolf, the man the legend made his final album for Chess Records 40 years ago The Back Door Wolf and it a final curtain call for Burnett despite Detroit Jr's odd use of Harpsichord on a couple songs and Watergate Blues dates itself. The Wolf made two questionable albums of the early 70's Message To The Young and the infamous This Is Howlin Wolf's New Album, He doesn't Like It before Chess finally moved him over to England to record The London Sessions and became the great comeback that should have been, The Wolf had the Rolling Stones Rhythm Section for Gawd's sake (Bill Wyman and 72 year old birthday boy Charlie Watts) and Eric Clapton and Steve Winwood to boot. By 1973, he was back with some of the finest Chess blues session players on The Back Door Wolf. Two and half years later cancer would claim him.
4. Trains-Porcupine Tree 2002
Drive Home-Steven Wilson 2013
Progressive rock is not dead, they just don't play it anymore on the radio or at your local Wally World or Best Buy. Steven Wilson was late to the game since he was born during the first explosion of Pink Floyd, King Crimson Yes revolution but by golly he has done a great job maintaining the spirit and vibe of Prog rock with The Tree and now on his own since Porcupine Tree hasn't had a new album out since 09. The new album The Raven That Refused To Sing continues that classic prog rock feel that nobody seems to want to do anything with anymore. Their loss.
5. One More Chance-Saliva 2006 Nu Metal believe it or not is about 18 years old if you can believe that and vets like KORN and Nine Inch Nails continue to hang around. Probably the worst name for a band ever, Saliva managed to hang on putting out five albums for Island/Def Jam was amazing upon itself but the lead singer Josey Scott got born again and left them after the lackluster Under Your Skin effort. The new guy, I heard one song and it might get me to buy their next album coming later in the summer although the new Saliva will be a lot different you would think. Never liked their earlier stuff although Blood Stained Love Story has some inspiring moments despite Bob Marlette's predictable production (it's easy to tell if you been listening to music like I have doing).
6. Only You And I Know-Dave Mason 1970 The secret weapon in those classic Traffic albums was Mason's songs off Mr Fantasy and the S/T album, but don't get me started on John Barleycorn Must Die, their overrated comeback album, it needed some Mason songs to which by then Mason started on a solo career and made a album so incredible that his meddling label Blue Thumb reissued about 5 times under different titles and best ofs. Mason could have been known as rocker had he not made some of most boring MOR songs of the 70s when he went Corporate and signed to Columbia (Let It Flow, We Just Disagree great songs rest of Let It Flow the album zzzzzz). Alone Together is his best.
7. One Way Out-Elmore James 1962 One of the best blues players but another that never really got much label support, James on his last victory lap when he recorded a bunch of sides for Fire/Enjoy Records to which Capricorn put out as a box set overview, (Collectibles sold them separately) and even though he recorded many of them beforehand, his stinging slide lead remains a treasure to hear although Bobby Robinson's horn charts at times sucked (one song the sax player squeeks out bad notes like Nicki No Talent showed up and started rapping). Tomato Records cherry picks random Fire/Enjoy selections for a uneven Dust My Broom mix Cd-since you can't call it greatest hits, there wasn't any may as well call it a Mix Tape or Mix CD. James sounds a bit like BB King on this one.
8. My Impersonal Life-Three Dog Night 1971 Granted they were a singles band but they had a good eye and ear for other people's material and over the course of their classic years they got from the likes of Paul Williams, Hoyt Axton, Randy Newman and others but from the album Harmony, they take one of the best unknown rock songs ever to call their own way, Blue Rose's Terry Furlong wrote this. Blue Rose had a minor hit but now is all but forgotten in this day and age. Harmony would turn out to be the last good 3 Dog Night album.
9. Oh What A Night-The Dells 1956 Long time doo wop R and B band lost their distinctive lead vocalist Marvin Junior last week at age 77 but they did record two versions of this song. The Vee Jay 56 version was the highest charting single but 12 years later, they recorded a good 6 minute version for Cadet/Chess that got some airplay on KWWL AM. Had their album There Is on CD and never quite knew what to think of it and traded it in. The Dells favored more of a smoother quiet storm type of R and B that is great for making out but if you didn't have anybody to make out to, it made perfect music to fall asleep to.
10. When The Night Comes-The Townedgers 1993 With No Exit released and done already after a month of it being promoted we go back to the 20th anniversary of Modern Problems In Reflected Living, the final album of a trilogy of comeback albums in the early 90s for this long time running but not well known Iowan band to which is banned from Bob Dorr's spotlight of Iowa music. His loss actually, Modern Problems turned out to be final album from the original Town's Edge Rock lineup and even though Jack Orbit and Ken Miller would rejoin from time to time, they were never in the same room during recording sessions again. One of more moodiest of pieces and even includes a rare R Smith lead guitar solo. Very simple but at the same time very haunting.
No room at the inn.....
Crazy World-Ace 1976
Couldn't Stand The Weather-Stevie Ray Vaughn/Double Trouble 1984
Goodbye Baby-Jack Scott 1958
What Would You Do-Deathray 2000
All We Have To Give-Oli Brown 2012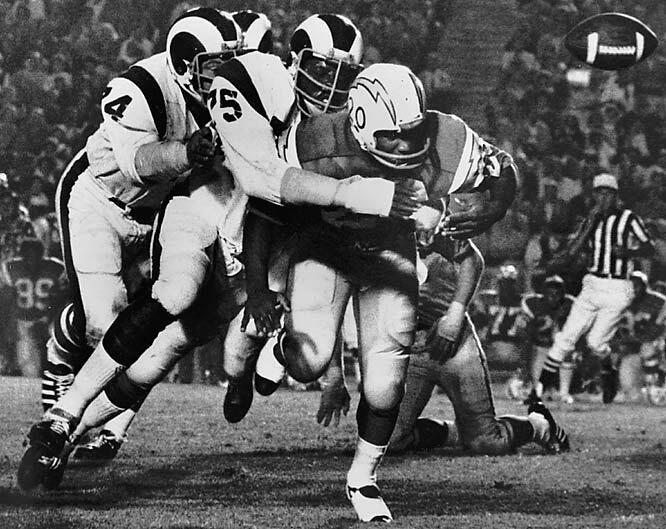 Another passing, Deacon Jones of the Rams Fearsome Foursome gang of the late 60s and later a Charger passed away at age 74. Jones got a second life with the Washington Redskins later on. One of the best defense players ever. RIP Here's he hanging to Mike Garrett while the late great Merlin Olsen adds more misery.
Iowa City Music Festival this weekend and Richard Thompson plays electric Friday night and the next night is The Old 97's I think I'm more partial of seeing Richard Thompson again since he was out here back in 2005 as a acoustic player. Would love to get a picture of him and myself should I go that night.
The El Reno tornado may have been the longest and widest tornado in recent memory, growing to a hard to believe 2.6 miles wide. But on the ground for 40 terror filled minutes killing 10 people, most of them in cars trying to flee it. And starting out going SE before switching up to NE at the end, unpredictable as hell. We hope the weather is much better this week although it remains below normal and feels like a day in October rather than June. But then again I've been stuck with a fucking summer flu and they are the worst kind.
The Rolling Stones 50 finished up their Chicago trek and had the odious Sheryl Crow ruining All Down The Line and Taylor Swift trying to channel her inner Marianne Faithful in As Tears Go By. I'm sure they have to attract the young crowd to the Geritol stock (heh) but perhaps they should have checked their egos at the door and let Mick Taylor played guitar through the whole show but that would be one hit to the body of ego that is Mick Jagger.
I hate to burst people's bubble but I'm not much into the new Queens Of The Stone Age Like Clockwork (Matador) CD although Dave Grohl and the exiled Nick Oliveri return to play on the album although with the slipcase and cd itself we don't get to see who did what but Jake Shears plays on Smooth Song and Sir Elton John plays on whatever has a piano and Mrs. Josh Homme adds backing vocal on the first track. In some ways this kinda reminds me of their first album, the S/T rather than Songs For The Deaf, the breakthrough album of 10 years and change ago. Problem is that Like Clockwork is boring on most of the songs and the only reason I know that Jake Shears comes on one track is that he actually woke me up while I was resting my eyes. Queens remain a critics band that whatever they do they can't fail but in Homme's history, he's made some very spotty albums, Rated R comes to mind. But on the better tracks, I Sat By The Ocean he's can throw a stoner groove just like the old days and even sounds a bit like Chris Goss (Masters Of Reality) too. But for the most part you wait for something to happen, and it never does. Kind of like....clockwork.
2 Stars
Tom Jones-Spirit In The Room (Rounder)
There's more to Tom Jones than the Vegas lounge pop of the 60s and 70s that he's famous for but even on the kitsch numbers, Jones always had that Welsh voice going for him. If you think about it, he's done just about it all, going from Vegas Pop to Lounge and later Straight Country and then back to the dance floor. But in 2010 Jones did a 360 and made perhaps his album of his lifetime Praise And Blame to which some now unemployed Island stuff shirt called a "sick joke' and no joke, Praise And Blame is Jones' finest album ever. Gospel covers and a eye on morality, life and death it was a labor that also came from the mind of Ethan Johns and in a way became what Rick Rubin was to Johnny Cash or Tim Armstrong to Jimmy Cliff, finding music and songs to revitalize a music career. Let's face it, Sir Tom Jones is too old to be the singing sex symbol that sang What's New Pussycat four and half decades back.
Picking up where Praise And Blame left off, Johns and Jones do a interesting selection of cover songs, and gives new meaning to Leonard Cohen's Tower Of Song and Mickey Newbury's Just Dropped In To See What My Condition Is In although the Tom Waits cover of Bad As Me is a head scratch-er and Dimming Of The Day while nice will forever be Linda Thompson's. Spirit In The Room is Praise And Blame Part 2, a little more polished and little less chance taking than the old of the blue sound of the previous. And Ethan Johns knows a thing or two about production too, he channels his inner T Bone Burnett to great effort whereas at the same keeps it simple. Island/Def Jam in the US didn't want nothing to do with this so Rounder picked it up and released it with a bonus track of When The Deal Goes Down, which is even more stripped than the original Bob Dylan version. And Jones goes deep into the blues gospel catalog to pick some great ones from Odetta and Blind Willie Johnson. What happens to aging sex symbols of the 60s and 70s? They get born again, bapitized in the blues and gospel and enjoys the rest of his time to show he's more than just the guy that sang She's A Lady.
Grade B+
Download faves: Hit Or Miss, Charlie Darwin.