I admit it. The Top Ten Of The Week blog is a novel.
This is another information site on chart positions of records that I keep forgetting but the guy at B sides Inc. refers to as the lesser known that didn't make the charts. This should work for you too.
http://bullfrogspond.com/artist-link.htm
For most of the year I have been transferring some of my archives from My Space over here but sad to say that I have lost the blogs that I wrote prior to 2008. Yep My Space has made it much more difficult and now has decided that any blogs are not worth saving. So, yet another piece of Crabb history is now in the great purgatory of nothingness thanks to the new My Space, which sucks even more than ever. No point into going back to My Space anymore, their expiration date just came up.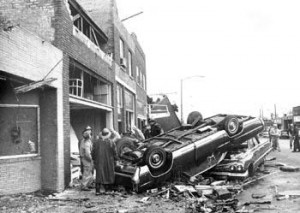 Another day another tornado outbreak this time in Iowa. Belmond got hit again, the twister that you seen in the previous blog took out The Cattleman's Club Supper Club and another business. In October 1966, an F5, the only F5 tornado that happened in Iowa History at that time came during Homecoming night.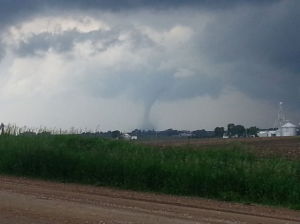 While there wasn't many pictures of the 66 Tornado, there were plenty of the Belmont 2013 twister. Such as this one. Belmond wasn't the only one that seen tornadoes, it started in the afternoon when a storm complex from east of here and then a odd formation of a parade of tornadoes and train rain that spent most of the day around US highway 20 and stayed north till after 9 when the storms here weaken and we eventually got some heavy rain but no severe weather. Dubuque had two tornado warnings and Waterloo had about 3 hours worth of tornado warnings as well. This storm system made it all the way to Cleveland about 9 PM. Another set of small tornadoes were reported at around Hampton but mostly out in open country.
Today marks the 5th anniversary of the biggest flood in Iowa history, the infamous 2008 Epic Surge to which 31.12 feet of angry Red Cedar River, boasted by a big 11 inch rainfall in Vinton swelled the river up to a point that it changed the face of Cedar Rapids for the next four years. The river made it as far as my old place on N St SW (lovingly called Broadcast Manor) and as far as the edge of Mercy Hospital and points in between at Czech Village, New Bo District and Time Check which always flood-prone.
For a time though this year I thought that we were going to return back to that rainy day and angry flood during the rain days of May and never seemed to stopped till that Wed to which people were scurrying about sandbagging the low lying area and praying that the rains would at least not come all at once. Which miracle upon miracles happened. Still with the Cedar flooding the usual areas along the trails and underpasses of the bike trail it could have been much worse. The Cedar had finally returned back to its banks a week and half later but any major rains could once again blow it up. Now if Mother Nature will shut off that rainy pattern we might learn to relax.
http://www.nytimes.com/2008/06/13/us/13flood.html?_r=0
But then again the weekend is rain rain rain and just in time for the Dubuque River Days to which Lynyrd Skynyrd and Survivor will play Saturday Night, weather permitting of course. I doubt I'll make it up there.
This site has become more of a weather blog during the past couple months and finally learning to post pictures from various websites, it's nice to show you what's happening here on the Western Front. Upon my archives of Cedar Rapids Drive Ins, Drive Ins dot com talks about the Twixt Town in Marion but nobody there knows about the Cedar Rapids Drive In that in May 26, 1965 a twister tore up the CR Drive In and later on another storm complex took part of the Twixt Town Drive In at around 4 AM, yep you guessed it, another late night storm that this state is famous for. But from the archives came from a WMT 1965 broadcast tells a story of the tornado that happened, one of the rare ones that actually hit inside the city of CR. You Gotta love the background music that they chose for this, the late Grant Price and Conrad Johnson adds commentary to the black and white.
http://www.youtube.com/watch?v=fMo7s5ZifoE
It's a rough guess to know when this documentary took place, my guess is this may have been the Palm Sunday April 11, 1965 tornado outbreak which like this year, the circumstances was that year was a very long winter and snow may have still been on the ground in certain areas. I wouldn't think that we would have snow and cold that late in May but in Iowa you never quite know what the weather is going to do. But this link, really shows that Stormstalker did a thorough job chronicling the events as they happened as another typical stalled front, or a rapidity moving front clashing with both hot and cold airmasses to form a tornado outbreak. You can't blame global warming back in 1965 on that, even back then they had extreme weather just like we do today. Can't change the earth no matter how hard you try.
http://stormstalker.wordpress.com/2013/01/05/1965-palm-sunday/
Finally a shout out to Brooksie who I managed to catch on Twitter right before bed. I hope I can convince her to do a top ten of the week, she's always managed to throw in many more surprises than I do sometimes.
The new John Moreland album is out and Farce The Music has given it a big thumbs up. I plan on getting it in the near future. His songwriting is like the second coming of Steve Earle or Jay Farrar without the pretentiousness that has ruin the last few Son Volt albums.
If you can't enough of tornado stories, may I suggest:
http://stormstalker.wordpress.com/
Henry Rollins makes a strong point to tell you to kill the past:
http://blogs.laweekly.com/westcoastsound/2013/06/henry_rollins_the_column_kill_your_past.php