Tyler Hubbard is a dink:
http://www.farcethemusic.com/2014/11/tyler-hubbard-inventor-of-words-and.html?spref=fb
Outside of the death of Wayne Static from Static X, it has been a slow news week. Usual ramblings from Sammy Hagar that Chickenfoot is done and he is ready to get back with Van Halen again (yawn). Black Sabbath will do one final album and tour (got that out of the way) and David Crosby still hates Neil Young's new love interest which means no CSNY reunion. Graham Nash thinks otherwise but general rule of thumb is that when Neil Young is mad at you, he stays mad at you. Wayne Static passed away Friday in his sleep at age 48.
Football week: The Iowa Hawkeyes dominated Northwestern 48-7, the first time in years that Iowa took the lead and ran off and hid. Northwestern in recent years have had Iowa's number in football games to the point it became a rivary and every game hard fought. Not this one. Iowa played just about perfect, with the exception of butterfingers Dillon Kidd mishandling a snap to punt it, and NW got a score out of it. Although outplayed Mark McHugh made an amazing one handed catch that was number 2 in the top ten highlights of Sportscenter but this game belong to Jake Rudock who was 12 for 19 in passing and a touchdown, Mark Weisman who rambled for 94 yards and 3 TDs. and introducing Akrum Wadley who became the first Iowa RB to go over 100 yards in a game (106) and a TD. Iowa defense had five sacks, including 3 from Louis Trinca-Pasat (LTP which is better than typing his full last name out). Arizona State had to go into overtime to defeat Utah 19-16.and maintain on top of the Pac 12 South. ASU still trying to get used to Taylor Perry back as QB, the offense was still struggling to find it's identity. The Utah kicker one of the best kickers in the NCAA's missed two FGs in overtime, which paved the way for ASU to kick the game winner. While ASU has won 11 straight against Utah, the Utes much improved team gave them fits and almost beat them. ASU now controls their own destiny but they got Notre Dame next week and that's not going to be a easy game. Sitting pretty on top of the standings also makes you a perfect target to get knocked off too. Be wary.
Reviews:
Grace Jones-Hurricane (Pias Wall Of Sound-2009)
An interesting find in the two dollar section while dumping off about 50 dollars worth of CDs and LPs that I'll never listen to again (thank you Half Priced Books) I came across this album which got released in the states in 2011 under a different cover and that one had an extra cd of Dubs, which can only mean one thing: Grace got back with Sly And Robbie, the two guys who shaped her best albums for Island in the 1980s. And as if the EMI Manhattan albums never happened it picks up where Slave To The Rhythm left off although I think this is more of a continuance of her best album Nightclubbing. Plenty of all stars on this (Bruce Woolley, Eno!, Barry Reynolds from Marianne Faithful's best band) the record starts out strong with This Is, going into Williams' Blood which plays on Amazing Grace, with a hook filled chorus worth the price of the two dollars paid for this. The Sly and Robbie groove keeps things moving on quite well with Corporate Cannibal to which this is Grace at her mad best and hard grooving. I also liked her rock number with Reynolds (Well Well Well), which gives me sweet dreams of his work with Marianne Faithful (Broken English, her best). The title track with Tricky tries to be like an actual hurricane, the soft beginning, the chaotic ending, but for myself it was kind of a let down, even with Eno's white noise it just didn't happen for me. The rest of the album kinda goes through the reggae rhythms of Sunset Sunrise before ending with the trance doom of Devil In My Life which may or may not be about Grace herself. But in the end, Hurricane really is a nice reunion to the days of Nightclubbing and Warm Leatherette. Enough weirdness that you can dance to and done the old fashioned way. Who needs to autotune and plastic beats when Sly and Robbie with Grace can do it for you? A welcome comeback album that nobody knew nothing about here.
Grade A-
Doobie Brothers-Southbound (Arista Nashville)
For all intent purposes, The Doobie Brothers are a feel good nostalgia act, kinda like any of the 70s bands still around, Foghat comes to mind. But while Foghat has returned to their blues roots, The Doobies have been more country based than boogie oogie, and they gone through changes as well. Biker rock, then blue eyed soul and then reunited to return to country soft rock, although I still like their boogie oogie of Without You or Rockin Down The Highway, the B side to Jesus Is Just Alright. Recording their last album World Wide Open, it become clear to them that perhaps they should take up the country side a bit more and then to sweeten the pot add some of country's best known stars for yet another tribute to the oldies via Nashville. I dismissed this on first sight but upon finding a copy of this (at Wal Mart of course, Best Buy didn't have it) found myself actually digging this beginning with Black Water done with The Zac Brown Band. Which sets the pace of this album, kinda of Best Of The Doobies with a couple of Michael McDonald numbers thrown in. Plus he gets the ladies, Sara Evans guest starring on When A Fool Believes and does a fairly good job and Donna Summer's daughter Amanda Ramirez sings on You Belong To Me although I prefer Carly Simon. But she's too old and not a Country star. The big story is that McDonald returns to do three songs on Southbound (he did appear on the last album and despite what is said, he did depart from the Doobies on good terms) and teaches Love And Theft how to do it with that blue eyed soul croon/growl/scream on Takin It To The Street, which Love And Theft checks their bro country at the door. Believe it or not Southbound is country only by name association, The Doobies still can rock it and although they have done these songs many many times before, they sound like they are having fun, and the guest stars as well, although Brad Paisley can't help but elbow his way in on guitar on Rockin Down The Highway, which rocks harder than the original version (go figure). Actually, Southbound rocks harder than anything they done since Brotherhood, their second Capitol album of the early 90s. The only misstep as far as I can tell is Take Me In Your Arms, which redneck crazy Tyler Farr sounds out of place, bro country he knows, soul music he don't. Don't look for Southbound to bound up the charts, be it country or rock but take it for what it's worth, an alternative to the overplayed classic rock hits and a chance to bond with the country stars of today. Plus, it's good music to go rocking down the highway with.
Grade B+
Out Of This World Flying Saucers! (Concert Products 2004)
I admit that I'm a sucker for those novelty answer records that Dickie Goodman used to popularize in the 50s and 60s, his later stuff was dated and half assed most of the time (Hey ET) before he offed himself out of this world. There was a comp out there that was better but it wasn't mastered very well and the end of the CD the songs skipped. Not much is known about this compilation of Flying Saucers, the historic Flying Saucers with Buchanan and Goodman is here as well as most of the followups, and of course some knockoffs as well. Best ones, if you can call them that, Vik Venus Moonflight is a Buddah 45 that uses the bubblegum hits from that label, Captain Zap/Motortown Cut Up's Luney Landing is Motown's answer record, And You Eff Oh is strictly has country and western numbers and probably the best next to the Goodman Buchanan Flying Saucers records. Problem is that there are three different variations of Flying Saucer from other groups, which is basically the same thing, either sped up or slowed down although we do hear the rare Coral single The Space Man to which Allan Freed himself with Steve Allen actually doing real music to the cut up originally done by Goodman. But if a answer novelty record gets boring, it sucks the life out of the room such as The Merry Martian with The Marching Band and Antique Circus' Flying Saucers In Brooklyn 2 part crapfest. Or the embarrassing Little Space Girl from Jesse Lee Turner. Or the subpar Alfred Hitchcock parody of Henry Goes To The Moon by Ruff N Ready. Another thing: the mastering of this CD sucks, too much bass sounding and basically done as an afterthought. But you hardly ever hear of novelty cut in songs anymore, due to copyright issues which is summed by by Jon Goodmans' 1998 Return Of The Flying Saucer to which Goodman meets the dark master, who ends the whole thing on Due to copyright issues this record will not continue remark. Which is the sign of the times. Or perhaps the dark master is the copyrights lawyer for The Eagles. Or maybe Don Henley himself. About the funniest thing on this CD is the warning that if you illegally make another copy of this monstrosity, that the flying saucers will take you away or they will make you listen to this CD over again and that will drive you crazy. At last, truth in advertising.
Grade C
Playlist:
January-Pilot (S/T)
Four Wheel Drive-Bachman Turner Overdrive (Four Wheel Drive)
Yet Here Comes Another Day-The Kinks (Everybody's In Show Business)
Gina Gina-The Ramonos (Hi Single 2035-V)
The Space Ship-The Missiles (Out Of This World Flying Saucers)
No One Came-Deep Purple (Fireball)
Sharlot-Shatter (Heartland USA)
Sixty Minute Man-Rufus Thomas (Do The Funky Chicken)
Low Down And Dirty-Poppa Chubby (Booty And The Beast)
Cheating-The Animals (Very Best Of Eric Burdon And The Animals Volume 2)
The elections are now done and over with and if you're a Koch Brother you'll love the results. Just about anything and everything Republican won, which means they control both the house and senate, which means you can count upon the next great depression happening. Earlier in the year everybody wanted to vote Mitch The Bitch McConnell out, how soon they forget, Turtle face got reelected once again. The vile Rick Scott got reelected once again, no accounting for Florida's taste. Ann Coulter is in orgasmic heaven.
Joni Ernst won too. So did nutjob Steve King. Just about everybody Republican won, except Marianne Miller Meeks to which Dave Lobesack remains the sole Democrat remaining. Anything to stick it to Obama, the voters did. And boy did they ever. Not that Obama has done a great job this term, but then again you're stuck with ideology from one side, and an Republican control House that did nothing but shut the country down and continued to take vacations and time off. Never have we seen a Congress that did absolutely nothing get rewarded with more Conservatives. Freaky Rick Scott won another term and while Wendy Davis was the better choice, she got ran out of Texas by Red neck Greg Abbott. What is the appeal of these folks, I just don't see it. The future don't look so bright now. I predict gas prices will hit 5 dollars a gallon when everything said and done, the 1 percent will get tax cuts and the working stiffs get screwed more often than not, and perhaps the lamest excuse will lead to another war in the Middle East. I hope I'm wrong about that but I don't believe I will be. I suppose this will lead Jeb Bush to become POTUS in 2016, to which I leave you with this observation.
"I see in the near future a crisis that unnerves me, and causes me to tremble for the safety of my country. As a result of war, corporations have been enthroned and an era of corruption in high places will follow, and the money power of the country will endeavor to prolong its reign by working upon the prejudices of the people until all the wealth is aggregated in a few hands and the republic destroyed." - Abraham Lincoln (he actually didn't say it, according to legend but it does paint a perfect picture of American Politics 2014)
But on a good note, the political ads are done.
Since I can't put into words, I'll leave the final quote to this from my high school classmate Jill Cram, who's now having to deal with another term of Rick Scott.
C'est la vie, c'est la gare...the voters have spoken and now we have to live with the results for the next two
years. Buckle up, y'all.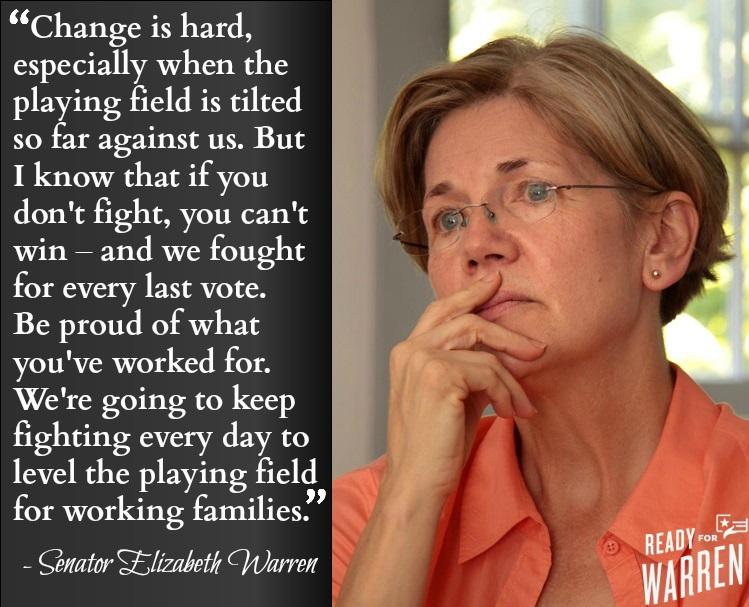 Those who do not remember the past are condemned to repeat it.