It's that time again folks. Time to give out awards for the best and worst places and things of this wonderful year. With daylight savings time now on hiatus till March and daylight ends around 5 O clock, there's not much going on when the sun goes down and we all the darkness to partake into playing records or blogging about mindless things that 40 or 50 people view per month and some blogs continue to prosper. Which probably meant that I have chosen the right photo from Google to get more views. But we continue to lose more record stores (RIP Apop Records, St Louis), more mom and pop restaurants in favor of Corporate own entities (Jimmy John's, Poncheros) and seeing a revolving door of Mexican food eateries in this area, there's no shortages of places to eat. There's also no shortages of getting sick or getting a roast beef sandwich tougher than shoe leather either, which was another reason why the Jimmy John's across from Pearson's got booted from favorite places to eat. They're fast, so fast that somebody lost one of their shoes to make that roast beef sandwich that I threw away after getting it.
But basically, this list is my favorites (and not so favorites of the year). Take it for what's it worth. Another blog written by a bored middle age old coot that continues to believe he's making a difference in the Record World.
Favorite Cos player and dream date:
Ivy Doomkitty
By far my most favorite cos player model/actress/pinup model, Ivy remains one of the favorites here in Record World, surpassing the likes of London Andrews, Samantha Fish, Maxey Greene and Bo Vixxen although Vixxen got some votes from y'all as well. She's very popular at Comic Book Conventions, you can find her at her website or on You Tube or on Twitter. One of the most down to earth people, she'll even mention you or favor a tweet you posted on Twitter. You might get lucky and get a picture with her taken at a Comic Book Convention. She takes her comic books poses very seriously and can make a convincing Sheena or Star Trekkie or Velma from Scooby Doo. If all of them could be as fun as Ivy is.
Best Used Store To Hang Out.
Half Priced Books (Cedar Rapids, Madison, Des Moines, Chesterfield)
For 9 years HP Books in town has been my second home. I have found many many many CDs and LPs and 45s of note and the majority of them have been in the 2 dollar bins. In a town that no longer has a record store in walking distance, Half Priced Books does sometimes have new LPs that are somewhat cheaper than record stores but I enjoy the fact that the folks there have treated me as if I do live there. And they have been mighty helpful and letting me thin out my collection and giving me some sizable cash for the stuff that I do bring in. The runner up store is Stuff Etc (CR, Iowa City/Coralville, Davenport, Waterloo, Ankeny) where LPs go for 99 cents and CDs for 1.99. As with thrift stores they are hit and miss but plan it right and you can go home with a Willis Alan Ramsey for a dollar or A gold disc of Dave Brubeck for two dollars. Honorable mention: Houseworks: Iowa City.
Best Record Store (in the area)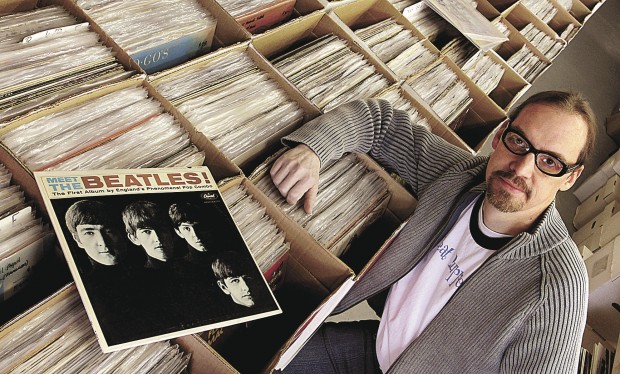 Ragged Records-Davenport
A tough one to say which is the best record store. There's a few I can recommend, Record Collector (Iowa City), Moondog Music (Dubuque), CD's 4 Change (Dubuque), Co Op (Moline IL, Clinton IA) St Louis has Euclid Records, Record Exchange and Vintage Vinyl and Madison, you have to go to Mad City Music X and Strictly Vinyl. But in the end, Bob Herrington and Ben Crabb (no relation to RS Crabb) has always made me feel welcome whenever I get down to the Quad Cities. While their CD selection is fairly big and I have found some interesting out of print stuff there, their forte is vinyl albums. Their 45 selection area isn't too shabby either.
Best Net Radio Station:
Lucky Star Radio
Runner Up: KFMH 99 Plus
Yes I'm biased but I like a radio station that plays a wide variety of music and Lucky Star Radio does have that shock value of playing the classics along with developing and upcoming artists. After a few years being on Radio Buzz'd Diggy Kat has taken his act to his own radio station via Live 365 and bringing a lot of the shows from the old Radio Buzz'd to Lucky Star, yours truly included with Townedger Radio. Sometimes it can be extreme, going from Neil Young To Slipknot to Waylon Jennings to Gemini Syndrome to Dave Brubeck, but I love it when they give unknown bands to hear their music via the net. Somewhat radio used to be till Cumulus and Clear Channel brought them all up to become the same old shit station, which leads to.
Worst Radio Station
KKRQ The Fox
Runner Up: KRNA
The sad state of affairs that is Corporate Rock is the nadir of Classic Rock Radio: A playlist that hasn't changed since 1995 and the same tired songs that we all got sick and tired of hearing are played over and over. I know you love Killer Queen but hearing it being played twice in a half hour is just plain dumb, as well as Dream On three times a row in a night. Nothing like The Fox touting the new Bob Seger CD and guess what song they play? Old Time Rock And Roll. Only time The Fox is worth hearing is the All Request Lunch Hour to which they will dig deep into the archives and play a Momma Let Him Play, before one O'clock rolls around and it's Crazy Over You by Heart once again. Which has been in regular rotation since it came out in 1976 Runner up KRNA changed over to Alternative Rock from Modern Rock earlier this fall, which means you get to hear less Boston, but more Red Hot Chili Peppers and Candlebox, as well as more crap passing as alternative rock. Lucky you.
Best Mexican Restaurant
El Rancero Iowa City
Another tough call, there are plenty to choose from, from Si Senor (Mount Vernon), to Las Palmas (Platteville), Cancun (CR), Villa's Patio (Marion) Hacienda Los Glorias (C.R) and I can eat at any of them forever but El Rancero in Iowa City is the most recommended. They have the best salsa in anywhere.
Best Pizza Place
Naso's (Marion)
Runner Up: Marco's (Boyson Road, CR)
The older I get, the more I tend to shy away from foods I used to live on. Burgers, was a big fan of them but lately I get sick very easy anymore and pizza's are in that category as well. While Zoey's Pizza continues to get high marks from the local newspapers I tend to find their pizzas to be like sinkers, they stick with you for a couple days. And basically nowadays, the Corporate owned pizza joints are uneven at best, Papa John's and Dominos can go from good to disappointing in a matter of days. The demise of the Pizza buffets are evident as Cici's closed up shop but we still have Pizza Ranch in many locations, or if you want quick and easy, there's Casey's take out or Happy Joe's although the poor service at one location made me swear off going there in favor of a better Mexican place in downtown Maquoketa. Marco's is one of the smaller Corporate pizza places, but a few years ago, they were in Town And Country and had hands down the best buffet before they closed up shop. For the most part the new Marco's usually is next door to a Family Video place and you get a free rental movie for every pizza you order. But I'm biased, I love Marco's, although I do get a kick out of the dude showing off the newly baked pizza in the box before handing it over to a hungry bargain hunter. For family owned, it's always been Naso's on 7th Avenue in Marion, which was a hangout in my high school years and after working at the old Coastal Mart now a distant memory although the trains that used to go through town, replaced by endless roundabouts that go nowhere. For greasy pizza, it's bit more pricey than it used to be, but it's the way that I remember it. Plenty of garlic and plenty of cheese.
Best Chinese Food
Bamboo Garden-Anamosa Iowa
Runner Up: Peking Buffet Coralville Iowa
Bamboo Garden in downtown Anamosa is close by and is perfect for lunch when your on the go. But I come to find that Chinese buffets don't stay open very long, Buffet King comes to mind, so does Green Leaves which managed to call Anamosa it's home for two months then folded up. Lucky Star in Dubuque closed up shop as well, but Asian King remains open down the road from Moondog Music. Avoid the disappointing and too expensive Metro Buffet in Cedar Rapids, you have better food options then to spend 12 dollars for a dinner meal there. The Marion Chinese Buffet across from Wally World is also a hit and miss affair. While buffets come and go, The Bamboo in Anamosa has managed to defy the odds and remain open for a long time. Plus they're ultra fast on take out too.
Other favorite places to eat:
Rudy Tacos (Davenport/Moline)
Cracker Barrel (Davenport/Madison)
McOtto's (Anamosa)
Culver's (Marion)
Salsa's (Dubuque)
Noodles And Company (C.R/Madison)
Taco Time (Ames if it's still there)
Book and record stores:
Frugal Muse (Madison)
Source Book Store (Davenport)
Sweet Living Antiques (Iowa City)
Hastings (Kirksville MO)
FYE (Quincy/St. Louis/Des Moines)
Salvation Army (Marion, Davenport, Moline)
Goodwill (whatever is close by)
St. Vincent De Paul (Madison, Waterloo, C.R, Asbury)
And so on.......