I haven't been around much lately, for the past 10 days I've dealing with some extraordinary back spams that makes it hard for me to stick around the computer for too long. Still feels like I got a 10 inch dagger in my back. Ratings haven't been too stellar either. I've only broke over 70 views twice in the past ten days. And I guess nobody really cared much for the top ten last week of cover versions. It has yet to go past 15 views. But while things have been idle here, I did managed to listen to a few new albums and taken notes on some of the cooler songs off XM radio, when they weren't shoving Pink Floyd down our collective throats. Not everybody worships Pink Floyd, even though I have 7 CDs of their music.
1. Heart Shaped Box (Albini Mix) Nirvana 1993 I really didn't need the 20th anniversary edition of In Utero but had to hear the infamous Steve Albini mix that scared the label off to the point that Scott Litt took a different mix to the album. The original mix wouldn't chart that high if it did at all, it's muddier and there's a strange Kurt solo that has lots of tremolo to the lead. Also, the new revisit of In Utero isn't as loud as the CD version that came out 20 years ago and not as bright sounding too. Or maybe I'm going deaf I donno. Had In Utero on cassette a long time ago and played it when my ex GF was in the car on our way to a Thankgiving dinner in Bennett. The look of terror in her eyes was priceless. She was a country music fan and didn't enjoy the alternative music that I had for driving music. Wonder what she would thought of the next entry on this top ten......
2. Kon Tiki-Yma Sumac 1952 Alternative music of the early 50s. Yma is famous for her 4 and an half octave voice, going from a bass murmur to a high pitched scream in a verse is something that the failures of The Voice and American Idol would love to have. May have been the inspiration for Yoko Ono, who has a new album out if you're interested.
3. Emerald-Thin Lizzy 1978 Live version. Deep Tracks played the studio version the other day. Good thing that they know that there's much more to Thin Lizzy than The Boys Are Back In Town, the only fucking song that Cumulus Corporate Radio knows about. Don't know why we bother to keep bitching about the limitations of Cumulus/Clear Channel Radio, it's never going to change.
4. Going All The Way-The Squires 1966 Somewhere along the forgotten 45's in the 9 cent bins that I overlooked was this garage rock classic that I forgot all about till I rediscovered it on some other website and then realized I had this on the Nuggets box set. Which is a nice box set but wish the Rhino folks would have stayed faithful to the Elektra/Sire album and gave us the stereo mix rather than crappy sounding 45 mono sound that is on the box set.
5. The Enemy Inside-Dream Theater 2013 Like Rush, if you're not into what these guys are putting down for prog metal rock, you will never will and the new album will try your patience. The whirlwind of guitars, keyboards, bass and drums is like being inside of a tornado going at 200 miles per second. I guess they're trying to make up for the dullness of their last album which was good in spots but at 78 minutes tended to put me to sleep during rush hour on the way to Tucson and that's not such a good thing. The new album is more complicated and done a bit better than the last album and Mike Portnoy is not missed. Despite what he thinks.
6. Ballad Of An Has Been Beauty Queen-Brinsley Schwartz 1970 Listening to this track makes it hard to believe that the guys in the band here would move over to punk rock, well Nick Lowe actually. Their first two albums showcased a band that was more interested in sounding like The Band but this song they attempt their own version of Prog rock, starting out with a jam for a couple minutes before Nick starts singing. Probably the only ten minute song Nick Lowe ever wrote. A long time ago, Capitol reissued this as a 2 record set, the first was their S/T album and it's them trying the underground rock scene (along the lines of Crosby, Stills & Nash or The Band) the second was the fine Despite It All which Capitol did release but I have never seen that album standalone. One Way Records put it out on CD in the mid 90s (now deleted).
7. Much Too Much-The Who 1965 If you can seek the stereo version of this CD. Universal still has the crappy CD mono mix but in 2002 issued this in stereo for the first time and it sounds much better. One of the lesser known tracks of My Generation but punk rock owes The Who big time on this. Later covered by the likes of The Townedgers and Tommy Keene.
8. Lord Of The Thighs-Aerosmith 1978 If you ever wanted to hear a band whacked out on drugs, you have to listen to Live Bootleg and even 35 years after its release, you can hear every out of tune guitar and Steven Tyler messing up the words everywhere (for further proof, listen to Sweet Emotion, Tyler makes it up as they go along). I think you can call it the spirit of rock and roll as Tyler goes backstage to snort a bit more of coke before coming back to jive along with Joe Perry's guitar on the jam part. A much nicer version is on Classics Live, by then everybody cleaned up their act and was actually together on that classic tune.
9. On My Radio-The Selecter 1979 Next to The Specials, The Selecter was on the famous 2 Tone label and scored a few hits in the UK, whereas in the states they remained a bubbling under band. Neol Davies wrote most of the songs and most of them was sung by the stunning Pauline Black. Their 2 albums for 2 Tone/Chrysalis had moments and when EMI picked up that label in the late 80s, they had some nobody compiled his own mixtape of their best songs. Face it folks, if you haven't heard any of the songs on a best of, you may as well call it a mix tape on a CD. Drummer Harrington (H) Bambridge would later join The Specials in the 1990s. Pauline Black has fronted her own version of The Selecter thoughout the years.
10. Fearless-Pink Floyd 1970 Well Hell Frank, bitch about Pink Floyd on the radio all the time and then add a song of theirs to conclude a top ten. Actually Fearless is one song I can listen to a lot since radio and Deep Tracks doesn't play this too often, not that I really listen to Deep Tracks at 11 PM CST for their hour long Floyd show. But anyway, David Gilmour was a good counterpoint to Roger Waters on the albums and this little tidbit features a soccer crowd singing up You'll Never Walk Alone at the finale. But then again I always like the weird Pink Floyd over the more mainstream Floyd of DSOTM to which somebody is playing that album all the time on this planet. I like to be a little bit more different than that. Somehow left off Echoes (The 2 CD best of) but can be found on Meddle or the 1987 cashgrab but enjoyable Works. To which I have both copies of. So I must be a fan.
Territorial Bitchings: The Cubs season is now over and Dale Sveum has been fired after leading them to 95 plus losses in the two years he was bestowed as Manager and somehow he lost the team on this September which 18 game loser Edwin Jackson and him had a disagreement about being pulled in a game and hearing Kevin Gregg crying about not being used right as a stopper (never mind the fact that he blew a couple needed games in the latter months of 2013. I stopped counting after 25 blown saves this season and another Cubs fire sale of getting rid of key players didn't help and carousel of players coming and going that even I didn't know who played what and where they got them. With the Yankees not making the playoffs, the Cubs brass think that Joe Garardi will be available to coach next season's team and hope that he can make them at least respectable or at least play at .500 baseball. With the disappointing Starlin Castro and Anthony Rizzo this year Cubs never did established any consistent hits or wins for that matter. While the Cubs continued to fuck up this season, I really didn't spent too much time watching them, I had better things to do. And may have to do other things for 2014 since they will be in year three of the rebuilding mode while Theo Epstein continues to stock the minor leagues of the up and comers, only to flame out once they reach the big league. Future does look bright for Junior Lake although like his number namesake Sammy Sosa, Lake was swinging at the worst pitches known to man. Improve or get traded.
On the plus side, 2013 is shaping up so far to be a better year for the Iowa Hawkeyes who managed to hold on Floyd Of Rosedale for another year in Iowa City since they played their best game of the year against Minnesota. In fact the defense may have played their best game all year. If Jake Rudock didn't throw that ill advised pass against Northern Illinois, The Hawkeyes might be 5-0 and the shock of the Big Ten. Basically at a 4-1 mark they are the surprise of the Big Ten although Minnesota's playing cupcake teams may have them overconfident that they were going to take back Floyd by making outlandish remarks before the Hawks got to Minneapolis. With a 23-7 thwacking of the Gophers, there is even talk of making the top 25. That's going a bit too far for now but I think at home with Michigan State is winnable, which leaves them two weeks to get up and ready against the hated Ohio State Buckeyes and Urban Meyer, who seems to get the cream of the crop, with Kenny Guiden who threw a record 6 TD passes against Florida A&M Junior College and gets benched in favor of Miller who laser accuracy throws shows why he's one of the best of the Big Ten it seems. For now The Iowa Hawkeyes have taken one game at a time and have gotten better as the season goes along. I had doubts with them winning at least two games but they have matched the total wins as they did last year that exceeded my expectations. Still they still make too many mistakes in the red zone and Rudock has been known to throw a bad interception from time to time but things are coming together. We'll see how the year progresses on but they should beat Michigan State but they won't against Ohio State, OSU looks to be unbeatable but they have the second best Big Ten team Northwestern coming up.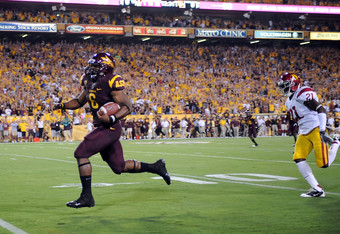 Finally, a big shout out to Arizona State who sent USC and Lane Kiffin packing with a 62-41 blowout in Tempe last Saturday Night, ending the infamous Kiffin era with a thud and a third quarter asskicking that Pat Haden fired him at the airport, hell of a way to get canned. ASU benefits from playing in the Pac 12 South where the teams are not as good as the north (they gave Stanford a good fight after being down by 20 plus points), ASU lucks out by not playing Oregon Ducks, the best of the Pac 12 and like Ohio State could finish with no losses either. But for the most part, it was fun game and it made me wish I could been at Tempe, and knowing what I know singing along with the crowd to Lane Kiffin the Steam song Kiss Him Goodbye.
And if you're pining for something to read. You can read my little blog about Blue Oyster Cult on the Consortium.
http://rscrabbmusicconsortium.blogspot.com/2013/09/blue-oyster-cult.html
And before I forget:
http://music-mix.ew.com/2013/10/01/country-music-identity-crisis/