Spring in November? I had a strange feeling looking in the air on Saturday and seeing split clouds racing toward the North East but while we got about 3 inches of rain. The folks in Illinois fared worse with a tornado tearing apart Washington at around noon. And other hard hit places like Pekin, Coal City, list goes on.
This is what you missed. Not exactly a good start to the day waking up to that. At least six people lost their lives in Washington Illinois. Sad reminder that even in the fall, big storms can pop up. Thoughts and prayers to those affected.
All goes to show that even in the fall there's always that freak chance of storms that start up due to contrasts in air mass and cold and warm air collide.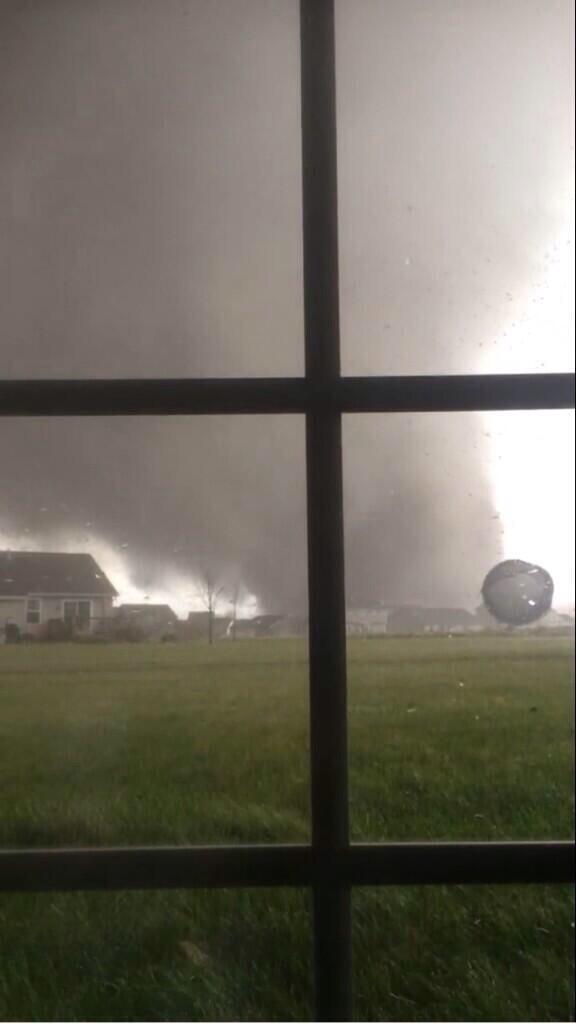 Who is this Vampirestat and why do they stalk us? The runaway winner in this months referring sites. Vampirestat INC seems to take interest in the latest blogs no matter what is put up here or in the Consortium or even the lesser used sites. They don't seem to add much to viewership and as worthwhile as those GD ED commercials that are shoved down our throat on TV, be it the news or sports. If it's all for more viewers I'm for it but if its all for naught, Vampirestat can just fuck off.
1. The Blue Mask-Lou Reed 1982 I heard that this was played at Lou Reed's Thursday Memorial or get together and if that was the first song played at his wake, it should jar the faithful and you can see Lou grin from ear to ear from the great beyond. The beginning notes a salute to Metal Machine Music and the rest pure intense rock and roll. It did help that Fernando Saunders played bass and proved to be a more MVP than doomed guitarist Robert Quine who found out the hard way that Lou could be a pain in the ass when you played in his band. I'm sure both Robert and Lou are trading riffs in the great beyond as we speak.
2. Already Yours-Curve 1992 Shoegazer alternative rock of the early 90s was as alternative as alternative rock got before Billboard decided to dilute that field with modern rock and alternative rock died of the result. Nobody plays Shoegazer not even My Bloody Valentine and most Shoegazer bands of that era are in the dollar bins across America. I should know, that's how I completed my Curve collection for under five dollars for their three albums for Charisma. Like their rivals Lush, Curve was into a noisy collective of dance music, more noisier than Lush but not as MBV. And somehow influenced Garbage which took it to another level although more buyer friendly so to speak. Curve has done later albums but none were as good as Doppleganger or Cuckoo. Discovered by Dave Stewart and produced by Flood (U2) and mixed by Alan Moulder, this is classic shoegazer music. Take it for what it's worth.
3. NYCNY-Daryl Hall 1977 reissued in 1980 Perhaps the strangest pairing of the 70s was half of Hall And Oates hooking up with King Crimson himself Robert Fripp and putting out a oddball album called Sacred Songs and it worked pretty good, but the manager of Hall And Oates hated it, sat on it and RCA didn't issue it till 3 years later. Featuring the H&O band of ex Elton John sidemen (Roger Pope RIP) this songs sounds like it would feel better at home on a David Bowie album. It's glam rock and it's good but the fans wanted the other guy back in the band. Wish granted.
4. It's So Hard-The Elvis Brothers 1983 If the rock stations of the 80s started to bore me, I'd changed it over to KUNI and in the early 80s they played a whole wide variety of pop rock. That's where I discovered The Paul Collins Beat, The Producers, The Bongos and The Elvis Brothers which was a new wave version of The Stray Cats without the 50s influence. In fact I'm certain that Phantom, Rocker And Slick took their music from the Elvis Brothers after Brian Selzer moved to a solo career. I think this was The Elvis Brothers' best song overall off the Movin Up album, a record that I playing side 1 most of the time and hardly the second side although a recent listen reveals it holds up quite well. Can't say that with the Adrian Belew flop Adventure Time followup, a Sophomore Slump if there ever was one. And then their crappy record label dropped them. The CD reissue is very hard to find.
5. Welcome To Fabulous Las Vegas-Brandon Flowers 2010 Last week, Island issued a best of The Killers, Brandon's day job band and in the ten years I have followed this band from Las Vegas, they have always seem to leave me a bit cold, on their debut Hot Fuss with their hits Mr. Brightside and Somebody Told Me, the overblown 2nd album which gave new meaning to the word pompous, the B side laden Sawdust which really wasn't bad and Battle Born, to which I thought was their best. Don't know if Direct Hits would be a worthwhile buy though, not at 12 bucks new and on sale. Which leads to Brandon's solo album Flamingo, which you have to give credit that he loves his city Las Vegas warts and all and the album itself is pretty good, even better than Hot Fuss if you can believe it. But it does remain somewhat faithful to the Killers sound although Daniel Lanois, Stuart Price and part timer Brendan O'Brien producing it. Another dollar find in the cut outs. I have that skill of finding them. (says the hoarder).
6. Anything At All-The Basement Brats 1996 Norway's answer to The Ramones or The Buzzcocks and predates The Hives but this band actually had the punk pop down pretty well. Found their CD The Bratbeat in the dollar bins and thought it would be worthy for a listen or two. Hardly anything is mentioned of this album although a Japan Import of a later album sells for 75 dollars on Amazon. Somebody on the net has The Bratbeat at 215 dollars for this cd. I only paid two for this. And came out ahead. Way ahead.
7. Cry For A Shadow-The Beatles 1961 Big news was the debut of The Beatles Live At The BBC part 2 but I'm sorry, I didn't think I needed that album all that much, even though I have the first. Poor Digipak, overpriced at 25 dollars and think I can live without it. But I settled upon the Polydor Tony Sheridan In The Beginning remaster at 6 dollars new. Probably the only cowrite of John Lennon and George Harrison in their history.
8. Better By You Better Than Me-Judas Priest 1978 A couple weeks ago, I wrote a piece about Spooky Tooth to which nobody read in the Consortium since I didn't think much of that band, however Judas Priest did a pretty good cover of Spooky Tooth's song off Stained Class, their second for Columbia and it made enough chart noise to signal that these guys were to be contend with in the heavy metal market. Nobody could hit those high notes like Rob Halford could, except maybe the dead lead singer dude of Uriah Heep (Mr. Bryson anyone?).
9. Step Outside-Foghat 1974 You gotta give credit to Foghat for continuing to promote their most recent album two years down the road but I have to admit, their new album is my least favorite. They were better boogie blues than just straight blues and the revisits of It Hurts Me Too makes me miss Lonesome Dave even moreso. Certainly classic rock radio loves Slow Ride or I Just Want To Make Love To You but Step Outside was a single a long time ago and did get some airplay. But not anymore. Unless I missed it on Deep Tracks on Pay Radio Sirius XM. Anyway found a old promo of them doing an Atari ad and sent it to their FB page. They got a kick out of it.
10. Octopussy-The Wedding Present 1991 David Gedge's band, they been around for a while but basically more famous out in the UK than here. In some ways they sound (to me) a cross of The Fall and Joy Division, with Gedge's inaudible soft rumblings and then shouts on chaotic choruses. Sandpaper for your ears was Melody Maker's response to the album Sea Monsters which RCA in the US passed and First Warning, a BMG offshoot label issued this before going bankrupt and Herb Cohen's Bizarre/Planet picked it up. Recorded by Steve Albini, who taught putting the drums up front to drown out everything was a great idea. In some ways, The Wedding Present may have even topped The Fall in terms of players coming and going. Maybe David Gedge is Mark E Smith's long lost twin.
Reissue:
The Bottlerockets-The Bottle Rockets and The Brooklyn Side (Bloodshot)
20 years ago, The Bottle Rockets came roaring out of Festus Missouri when ex Uncle Tupelo roadie and sometimes band member Brian Hennenman ventured out on his own with a few of his freaky friends and made perhaps the best rock album that John Mellencamp wished he could have with the S/T album. Visions of trailer trash life and lust about buying cigarettes and don't even smoke since he's in love with the Gas Girl but Brian also blasted the ones waving that racist southern flag, and burning down the double wide on Kerosene, the first Bottle Rockets album is one of the best rock albums (i e Americana although it owes more to Georgia Satellites and rowdy Uncle Tupelo than wise guy Mellencamp) that came out on East Side Digital label, a label that at the time featured great Americana albums from Blood Oranges and Roscoe's Gang as well as The Residents, San Francisco's freak band but the CD has been out of print for years till Bloodshot has issued it this week. The Brooklyn Side, the followup, has the hit Radar Gun, and more trailer trash fun with Welfare Music (watch the baby dance), plus favorite track 1,000 Dollar Car, to which we can all relate on driving pieces of shit that you got for 1,000 dollars. By then Atlantic Records, picked up the record rights and assigned it to their third tier label TAG Recordings and it sold enough for Atlantic to move them over to the main label for the classic 24 Hours A Day.
Bloodshot Records has put the first two albums on a 2 on 1 CD and if you like good old fashioned rock and roll, by all means buy this. It'll sound good in your home, car or in the trailer court of your choice.
Grade A-