I've known Bruce Stanley for over 20 years. I knew him when he was down at Omni later Relics Records located in the hood part of town and we would sit back and talk tunes and bullshit throughout the years. We have gone to seen a few bands, Big Back Forty, Blue Mountain, The Honeydogs to name a few and we were both trading CDs and albums to expand our musical horizons. After all, it was he that told me about Scruffy The Cat, Blue Mountain, Matthew Sweet and even though Relics folded in 1996, we continued to talk tunes while he was selling music gear over at 16th Avenue Music in Czech Village (RIP). For the last decade and a half I could find him working at Siegel's Pawnshop and we continue to bullshit about music although the demise of music stores and Best Buy's continuing to shrink the CD section, we haven't had much to get excited about. New Alabama Shakes? Meh. He hasn't said much good about the latest Iron And Wine but I admit that I never got into them.
We would try to wow each other in what we could find at the stores but lately, we talk about the good old days; the last true decade that great music, the late 80s alternative music scene before Nirvana. He made a valid point that we were very lucky growing up in our era of the last of the great music. Robyn Hitchcock, Lloyd Cole, Aztec Camera and the fond memories of Big Back Forty and Sean Beal standing behind us taking in a concert with The Honeydogs and then wondered what ever happened to him. I think we were the biggest fans of that band. I don't think the death of Kurt Cobain was the death of music, I think it was 1998 when Polygram got sold away to what would become the Universal Behemoth Empire, a Corporation so big, it refuses to issue The Brains Money Changes Everything album and has sued Rick Parashar's offspring for the tapes of Temple Of The Dog to which Universal claims that the late Parashar verbally agreed to hand the tapes over for 35,000 dollars. Or maybe it was Limp Bizkit and Nu Metal that was the beginning of the end. Or perhaps it was Cumulus and Clear Channel turning every radio station into the same cookie cutter Corporate Radio with the same 23 songs played over and over. I suppose 1998 was the cut off year, although there was still decent music being put out, it just didn't bring back memories like the golden age or rock and roll and Hippie Dippy Rock or Album Rock.
Nevertheless, Bruce and I talked about the vinyl revival and Record Store Day, to which both of us admit that if you have to celebrate one day of buying overpriced record store day specials just to play once and file away, it made no logical sense to blow 25 to 30 dollars on albums you used to get for 5 dollars back in the day. We both thought that Cedar Rapids needs a record store of its own but again Bruce said that you're better off throwing your money down the loo and getting a better return. In this day and age of certain old fart music insiders saying streaming is the future, who ever buys CDs and LPs are the problem, it doesn't make sense to open up a music store, only to have the goodies you have being bought up, and what remains is crap that nobody wants. I saw that firsthand in going to Madison a couple weeks ago. And the usual bitchings that going to thrift stores and Antique Malls, the luck is more miss than hit, unless somebody got lucky and posted their findings on a Vinyl appreciation face book page. The great argument is that CDs are past their prime and should be retired. I really don't think so. A lot of my music reviews are CDs that I play in the car when I'm out and about and basically they're still as good as they ever were when I started buying them almost 3 decades ago. But then again when a Cd is overcompressed and overloud then it's not such a good thing. The loudness factor especially in the last decade really ruin certain albums of note.
The vinyl revival of the past couple years has gotten to the point that scavengers have brought out just about anything that is seen at the thrift stores and what remains is crap nobody wants. Once in a while, there might be something obscure that the most savvy of scavenger record hunters will overlook but it's not too often. I don't see people getting too excited over Carmen Cavallero. Or most old country stuff if it's not Johnny Cash or Buck Owens. It's odd but during the CD explosion, CDs would sell for 10 dollars used while LPs only were around 3 or 4 dollars used. Nowadays, it's like Paranoid is 20 bucks reissue new whereas you can get it new for 5 or even less at a thrift store. And what didn't sell or sold for a dollar or less now gets big bucks on EBAY or other places. It really makes me wish I could have kept that ABC/Sire version of the First Ramones album on hand. I didn't think the value would go up in value and that dollar lack of sense has made me realize I'll never find that album again. The reissue of course but even the Rocket To Russia LP is much different than the one that I grew up listening to in high school.
I grew up on rock and roll and even in high school, I started getting into new wave and punk. And then getting into the weird shit. Wire 154, XTC Black Sea, Iggy Pop, New Values, Devo and I would torture Dave Spich, a co worker by going over to his house, with a pizza from Naso's and the mentioned albums and seeing the strange looks on his face before he threw me and the pizza out the door. Great times actually. XTC Black Sea Record Realm had that as a promo and I still have the Green sack cover that RSO put over the cover of the album, I think the record skipped on a couple songs. I wasn't a fan of English Settlement but I ended up getting the Epic album that was a single album and not a double like the import was. And imports were I could catch up on artists that didn't sell in the US, Doctor Feelgood, Hawkwind and Eddie And The Hot Rods come to mind. It took a while for me to really get into prog rock of Neu! or The Soft Machine or Tangerine Dream but somehow over the years I did find and purchased and listened to most of Tangerine Dream's Virgin years.
Back in the 80s college towns had the best record stores. BJ's in Iowa City replaced going to Musicland or Sam Goody, plus BJ's had a hell of a cut out record section, where they even sold The Beatles about 5 dollars under suggested retail price and I still have Let It Be, with a poster included. A Lowell Fulsom Kent album went unclaimed for years till I picked that one up. The obscure artist like Crack The Sky as well. When Real Records opened up, they were the place to go for Jazz and Blues. But in the late 80s world, even Target and K Mart still had a decent album section as well. The good old days, before the internet, and we still had real drive ins to go see a movie. Or playing video games at the mall. And even having the chance to pick up girls at that video arcade too. I miss those days, I really do.
I tend to look at the period of 1985 through 1997 as the last great influential era of music before everything got Corporate Rock and all the fun was taken out of. Before autotuned chipmunks and processed beats and bad poetry passing as rock or country or whatever top forty is. I been looking through the archives to remember bands that made it to the cutout bins and never heard from again. The Velvet Elvis, Mach Five, Super 400, even to Dream Syndicate or The Blood Oranges. Even The Bottle Rockets have fallen off the map although they are still around. Or The Backsliders from North Carolina. There was more to just Uncle Tupelo which splinted into Son Volt and Wilco, I really dig deep and read the alternative magazines to keep up to date of who was up and coming. But in these days and times, I just really haven't based much interest into the up and coming, but whoever was out and about 10 years or so ago I still keep an eye and ear out for. Such as Delta Moon whose new album is out.
I was looking through the archives and found the first Record Store Day was in 2009, at least to my knowledge it was and back then it was a celebration of the remaining record stores still in business and some odds and ends of exclusive RSD vinyl that while collectable was overpriced as is. In 2009 I went to Real Records and later Record Collector and getting the MC5 single of Kick Out The Jams (MF version not brothers and sisters which I would rather have). This year whatever I do will be a last minute decision. Half Priced Books will have a vinyl appreciation day Friday with 10 percent off new and used vinyl. Will it be worth the effort to return to Davenport or Dubuque and thinking the local thrift store will have anything of value? The logical thinking is no but I did file away a couple of 45s at Ragged Records for maybe future purchases and hope nobody knows about them. In my opinion, Record Store Day is a ripoff, overpriced limited edition albums that the best titles are already gone before they're put out, however it does bring the crowds out to witness other deals or to see up and coming bands. But then again I was always said that anytime I go to a record store is Record Store Day in my book. Although the returns are less and less, once in a while I will find something worth mentioning. And the weather is supposed to cooperate too. It's baseball season once again and perhaps if The Quad Cities River Bandits are playing home this weekend maybe I put another 200 miles on the car for a day of bargain hunting and baseball. It depends on if I feel if it's worth it. Even thinking about it tires me out. We'll see.
Baseball season is now going and Cedar Rapids Kernels are 5-0 as of this writing. I saw them win the home opener 8-3 over Beloit before a crowd of 1,752, of course the usual brat kids seated where I was at. This team has the makings of playoff caliber provided if the players don't get promoted and the replacements don't take over. Minor league baseball is the future of Major league stars and it's still a thrill watching them develop before your very eyes. I have come to watch less baseball on TV anymore, WGN doesn't show the Cubs much anymore and TBS games are blacked out every other game. Besides the weather is getting warm and there's other things to do than spend it sitting on the couch and falling asleep and missing much of the game. KCRG has announced a baseball TV lineup but they're on 9.2 and guess what, we don't get that out here in the boonies, even with digital rabbit ears.
A few things going on the music world. Jack White and AC/DC played Coachrella over the weekend, some poor fan got hit by a train afterwards and died...Speaking of brain dead. Marco Rubio has joined the GOP clown bus, Hillary Clinton running for Democratic POTUS, in other words the usual bought and sold candidates out there. Republicans trying to eliminate the federal estate tax, star another war. Nestle continues to hoard the water in California, them and the frackers. Beam me up Scotty, no intelligent life here.
RIP Percy Sledge. Best known for the overplayed When A Man Loves A Woman one of the more bitter love songs ever written while some think it's a romantic ballad. I tend to like Take Time To Know Her better, that doesn't get played very often and It Tears Me Up. I think I had his greatest hits years ago. The hits were on Atlantic, but he later showed up on Capricorn and Infinity to name a couple. Cancer claimed him at age 73.
Bill Withers will be in the rock hall of fame this weekend, and Rolling Stone wrote a fine article about Bill. They don't make anybody like Bill anymore:
http://www.rollingstone.com/music/features/bill-withers-the-soul-man-who-walked-away-20150414
Record Store Day and why it should be abolished.
http://popdose.com/why-record-store-day-2015-should-be-the-last/
Richie Blackmore turned 70 on Tuesday and there's been rumblings from Joe Lynn Turner about getting Richie back on board for Rainbow and David Coverdale even mentioned that a Deep Purple MK 3 Reunion was talked about but that fell through, even more so after Jon Lord passed away. Whitesnake's new album remakes some of the Deep Purple songs of that time in a new album. Good idea but don't know if that's worth getting or hearing. Outside of the usual Mike Portnoy stories or Megadeth rehashes Anti Music has in their site, not much going on in the music world. Speaking of useless new albums featuring useless guest stars and bands past their prime, read on...
Rod's Wonderful Record Reviews Of The Week:
Blues Traveler-Blow Up The Moon (Loud And Proud 2015)
You can tell a band is on its last legs when their new album they decide to enlist help from up and coming bands. Blues Traveler has been around for over 25 years now, and they have returned with yet another change of labels and a sense of desperation to sound relevant today. With all around nice guy Dave Grohl letting them record at his studio 606 Sound, John Popper and company gets a little help from long in the tooth teen ex idols Hanson, autotuned chipmunks 3OH!3, rappers Dirty Heads, over the hill punkers Plain White T's and Bowling For Soup (that's a name we haven't heard in about 10 years) JC Chavez and to have some country flavor, Jewel and Thompson Square appear as well. The title is laughingly bad lyricwise and namechecking Willie Nelson on Vagabound Blues is just plain wrong. This just does not feel like a Blues Traveler album, but rather sounds like guest stars doing their own thing and having Blues Traveler backing them up. It's not totality unlistenable, in fact there's a certain guilty pleasure of hearing Jewel or Thompson Square or even Secondhand Serenade on Darkness We All Need. You hardly noticed B.T. until Popper does his trademark Harmonica solos on the songs at hand. Perhaps this CD would have been more logical say about 10 years ago when most of the bands were making headway on the music charts back then. Popper has stated that this was the band's manager's idea and the band went with it. And they think they'll continue in this direction. If that's the case, the Blues Traveler we all know and loved is gone forever. Chances are this record will sink without a trace. And believe you me, radio isn't going to play this either. They haven't yet.
Grade C
Dwight Yoakam-Second Hand Heart (Reprise 2015)
Like Don Rich with Buck Owens, when they were together they made classic country from Bakersfield but when Rich died in 1974, Buck Owens would never scaled the upper reaches of country radio and his records became not as memorable. To draw the comparison, when Pete Anderson produced Dwight in the classic years, all the albums had a quality of style, a styles of rockabilly, Elvis and modern country all rolled up to one. Since the falling out with Anderson, Dwight has continued to make albums but the records were never as memorable. Even his return to Warner/Reprise with 3 Pears there was something amiss. Second Hand Heart owes more to the Rolling Stones rather than Buck and the Bakersfield sound all but gone. Certainly the Keith Richards/Chuck Berry riff on She pretty sums up the album itself, Dwight is rocking out and there's not a damn thing you can do about it. Dwight produces most of this, with a bit of help of mix master Chris Lord-Alge (90s alternative rock bands, Steve Winwood). Dwight still has a good backing band but not as good as Anderson's led band, basically all irreplaceable, no Skip Edwards, no Taras Ponderink, no Jeff Christie or Jeff Donovan. None of the songs are country sounding, Dwight leaves out the autotuners and bad rappers off his album, a very good thing. The remake of Man Of Constant Sorrow is more Black Crowes than O Brother but everybody is having a good time. Some of the songs need a good fadeout, Off Your Mind goes on too long, and the rest of the songs would song better on Outlaw Country on XM radio than K HACK. In the end this record gets the nod over 3 Pears but find the Target version of this album, which includes a 1989 demo of The Big Time, produced and played by Pete Anderson and compare it to the newer version. It's more stripped down and to the point. Who knows, maybe if they can meet halfway we could see Pete come back to produce the next effort which won't happen. So until then, Dwight is on par with Buck Owens, without a key member or producer, the records are good but lacking something.
Upon a second listen, his version of Who Will Stop The Rain sucks and final track Nothing But Love not much better. Sometimes Exclusive albums with bonus tracks are left off for a reason. The 1989 demo of The Big Time proves that Pete Anderson is the missing link between a good album and subpar album. Probably the most overrated album of 2015.
Grade C+
Percy Sledge-It Tears Me Up Best Of (Atlantic/Rhino 1992)
Percy is more in line with country ballads than pure uptempo soul and that's probably why I never warmed up to him that much. Of course he couldn't top the blistering When A Man Loves A Woman but like I said in the blog, I like Take Time To Know Her which basically should have come into play 40 years ago on my part. That said, Sledge specialized in the slower ballads although he does speed up Try A Little Tenderness, to which Otis Redding still owns but adds special meaning to Love Me Tender. I'd love to see more uptempo stuff rather than the handful that Rhino issued. Of course Marlon Greene is all everything as producer and guitarist but who gives the songs that soulful groove? None other than Roger Hawkins. Which is why It Tears Me Up is worth hearing.
Grade B+
Joe King Carrasco And The Crowns (Hannibal 1980)
One of the best kept secrets of the 1980s was Carrasco, a smart ass from Texas that took the heart and soul of Augie Meyers and Sir Douglas Quintet and added some B 52s fun and excitement to their music. This is Tex Mex party rock and roll and all of side 1 rocks quite nice, even the Spanish sung Federales is good time. But certainly the ghost of Doug Sahm can be heard on Don't Bug Me Baby, I Get My Kicks On You and of course Bad Bad Girls which you can heard traces of She's About A Mover. Of course it helps when Huey P Meaux is mentioned (He produced the best of Sir Douglas) and music lover Billy Altman produced, hands off and letting King and The Crowns do their own thing. Being on a small time label Hannibal didn't help much but the record sold well enough for MCA to offer up a deal and King and The Crowns would make two just as good albums before going back to the indees for their classic Bordertown. Secret weapon: Kris Cummings, who was the Kate Pierson to King's Fred Scnieder. Or maybe even Louis Prima and Keely Smith although Keely was never as fun as Kris was. Jes saying.
Grade A-
The Spinners-The Original Spinners (Motown 1967)
Of course, the classic years were with Thom Bell and Atlantic in the mid 70s but before then, The Detroit Spinners were among the B squad of Motown groups that didn't get the big songs or productions but rather competent and listenable soul doo wop. The connection between I'll Be Around and Truly Yours is that the vocalist is Bobby Smith and that producing them was Harvey Fuqua and William Stevenson which puts them more into Doo Wop at times with Tomorrow May Never Come and come to think of it, you can hear echoes of I'll Be Around to a lesser degree with Truly Yours which did managed to get some chart action in the mid 60s. Since Harvey Fuqua wasn't as noteworthy as say Smokey Robinson or Holland/Dozier/Holland he tended to favor more of a dated soul sound such as That's What Girls Are Made Of or I'll Always Love You, a song that must have been a requirement of Motown singers to cover, The Isley Brothers probably the best version of said song. The Funk Brothers band sound a bit less inspired but more polished on the numbers, The Original Spinners shows The Spinners still looking for a sound to call their own. Later on, G C Cameron would come on board to give them a hit with the Stevie Wonder penned and produced It's A Shame. To which later on The Spinners would lose Cameron as they left Motown for Atlantic but Cameron suggested one Phillipe Wynne to replace him and the rest they say is history.
Grade B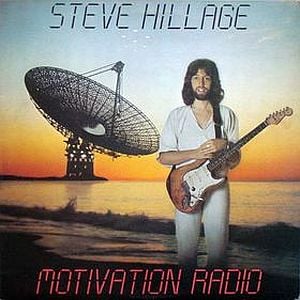 Steve Hillage-Motivation Radio (Atlantic 1977)
To me Hillage was part reason why the mid 70s Gong was tolerable, he seemed to be a calm among the storm of craziness that was Gong and Motivation Radio is more accessible and preferable to Gong. Somewhat progressive in a way but also suggesting something along the likes of Hawkwind, I enjoy Motivation and Light In The Sky leading up to the six minute Radio. Side 2 owes more toward Gong, with Saucer Surfing leading up the chaotic beginning of Waiting For The Spark. A fine record despite a blah cover of Not Fade Away. Sometimes it's better leaving the cover versions be.
Grade B+
Album of my youth: Tom Petty/The Heartbreakers Damn The Torpedoes (Backstreet 1979)
The first time I heard of Tom Petty was from a article in Creem Magazine and at that time they were talking about his latest You're Gonna Get It, the last album he did for Shelter (somehow TP got the masters back to that and the first album and Gone Gator has kept them in print). I think they were on The Midnite Special which I went out and got the 8 track. I know radio did not play Breakout around here, when I first heard that one it was from the FM Soundtrack to the movie. The movie wasn't so great, the soundtrack was the sounds of the 80s, a blueprint of Corporate Rock from Steely Dan's FM (No Static At All) to Billy Joel to the Eagles and of course Boston's More than A feeling. I'm getting off subject here, but while reviews of You're Gonna Get It was lukewarm, I thought it was great enough to warrant a solid B plus with the hits I Need To Know and FM classic Listen To Her Heart, which believe it or not ABC edited the damn song. But Shelter was running into financial instability and Petty moved over to the fledgling Backstreet label which ironically was part of MCA Records, to which Petty would have a love hate affair for the next decade and half. But at that time he was on Backstreet.
In some ways it was a success story on how Damn The Torpedoes came out of left field and became one of the classic rock albums of the 70s although the record took some time of getting going, beginning with Don't Do Me Like That and Refugee, now classic rock overplayed staples but one of those songs that if I play it in the car still sounds good, although countless repeats on The Fox makes you sick of hearing it. Hooking up with hot shot producer and later label head Jimmy Iovine, the connection was perfect for the time. Iovine has done wonders with other folks, Bruce Springsteen, Stevie Nicks, however Iovine's production for Bruce Springsteen's Darkness On The Edge Of Town was muddy as hell, on DTT, Shelly Yakus (Blue Oyster Cult) brighten and polished up the Heartbreakers sound which made it radio perfect sound.
Over the 35 plus years of Torpedoes, the record did not wow me like Y.G.G.I. It took plenty of effort to sit and listen through Refugee or Here Comes My Girl. I was more into the power pop rock of Even The Losers or Complex Kid (Shadow Of A Doubt) or Century City or even the throwaway What Are You Doin In My Life, which is my favorite song off that album. To which Classic Rock Radio doesn't play very often. Which is why it is my favorite song off that album. Of course the variables of sound effects and odd things on the album showed Petty's sense of humor, the woman's voice at the beginning of Even The Losers, the Ping ping ping introduction before Century City and whatever the hell was at the end of What Are You Doin' kinda cheapen the album a bit but they do give the record something different. I suppose Louisiana Rain would have made a nice single of sorts or even Losers or Complex Kid, most of Torpedoes would have been perfect for the radio. I am guessing this was Petty's high watermark album and anything after that would suffer, which they did on Hard Promises which begin a falling out period with MCA, when the label wanted to charge 8.98 and Petty said no and he'd would win that battle. By then Ron Blair opted out and the late Howie Epstein would take over. For myself I got off the Tom Petty band wagon for a while before getting Let Me Up (I Had Enough) his 1987 underrated classic album. Then Petty stuck it big with The Traveling Wilburys and a solo album Full Moon Fever which cemented his role as classic rocker, with a little help from Jeff Lynne. Instead of keeping it simple, Petty then hooked up with Rick Rubin, who brought out the self indulgence with the bloated Wildflowers and Stan Lynch left after Into The Great Wide Open, replaced by Steve Ferrone (Average White Band) who has managed to stay in the Heartbreakers ever since. Ferrone is more professional but Stan Lynch was the driving backbeat, although a bit sloppy but perfect on the early Petty albums including Damn The Torpedoes.
The album has been remastered and reissued a few times on CD. MCA issued the so so sounding Compact Price Series and then Universal and later Geffen restoring the inner sleeve pictures and on the last reissue the lyrics. And it's finally nice to finally read what Petty was singing. Perhaps the song that speaks most out to me is Even The Losers, with the tag line at the coda, it's such a drag living in the past and for most of my life I seemed to be doing that, especially over some freshman girl in high school that I haven't seen since graduation. Damn The Torpedoes the album, Tom Petty seemed to write songs that fit my moods or how I was feeling and didn't know it at the time. And albums like these stay in my collection for that reason, they struck a chord with me that continues this to this day. Even though Refugee and Don't Do Me Like That are still overplayed on the radio.
Grade A
TOWNEDGER RADIO: Broadcast number 7 (aired 4/15/15 on Lucky Star Radio)
Rose Of Jericho-Eleventh Dream Day
Not With A Bang-The Fanatics
Can't Stop The Music (he played it much too long) Hall & Oates
Lucifer Sam-Pink Floyd
Dirty Bird-Brant Bjork
Margo Known As Missy-The Judybats
Revenoor Man-George Jones
Let The Chips Fall-Jack Clement
Lynchin' Party-Bobby Bare (Happy 80th Birthday Bobby)
Wolfie (Demo)-The Townedgers
Silent E-Tom Lerner
Hold Me Tight-Ten Years After
P F Sloan-The Association
I Just Want To Make Love To You/Don't Want Your Money Paraphernalia Tyrus
The Train-Ray Charles
Don't Let Go-Commander Cody And His Lost Planet Airmen
You Can't Put Your Arms Around An Memory-Johnny Thunders