A week after Ann Arbor, the bargain hunting mobile took a trip down to Davenport for the first time in almost a year. I was informed that there were two record stores that were in downtown, Tom told me about the Source Book Store and Jenna told me about Ragged Records, both within walking distance of each other and about a block away from the Mississippi River.
(KWQC Photo)
I didn't have time to stop at Stuff Etc, which is next door to Big Lots and Goodwill was closed at 6 but I spent about 2 hours at both Source Book Store and then at Ragged Records.
Source Book Store has been around for years but this is my first time of actually knowing it existed and I did managed to find a couple albums of note: Who Live At Leeds at 3 dollars and Detective It Takes One To Know One for 2, which replaced a warped copy that I got at Arizona and couldn't play. However The Sports 1980 And Suddenly cost 6 bucks, probably should have put that one back. The cheap LPs were up front and the back but the pricey albums were in the basement and there was lots of albums to sort and seek through.
Ragged Records has the most 45s that I have ever seen in this day and age. Call my crazy but had to get a replacement copy of Call Me Lightning by The Who for six bucks but Ragged also had a promo copy of that album and about 10 copies of Emmit Rhodes 1970 hit Fresh As A Daisy. They pretty let me sort through the ones not categorized to which I found Ted Casady's The Lurch for Capitol. Perhaps the find of the day was John Mayall's 1988 CD Chicago Line to which I had once and gave it away to somebody and could never locate a copy till Ragged Records had one for 25 bucks. I usually don't go all out on out of print stuff but this Cd has become so rare that I figured I better just pay it now and not waste gas making a second trip later. I think it was Bob that waited on me on the 45s and he's a expert in pricing them. The building is located before the bridge across the Mississippi to the Arsenal and it's so unassuming that you'd never know it is a record store although there's a small sign out in front.
http://qctimes.com/business/article_b73ec14a-206a-11e0-9866-001cc4c03286.html
http://www.facebook.com/pages/Ragged-Records/116230848442228
This is Bob Herington. Owner of Ragged Records, he got to meet me in 45 bins. Great guy. This is location of Ragged Records (past the iron bridge)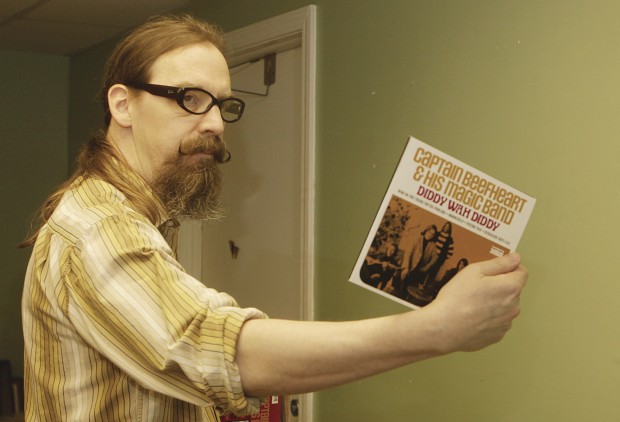 Moline still has the FYE store in the mall but I found nothing and got bored with them in a hurry. Same thing with the Books A Minute store on 53rd which takes over for Borders in the same spot. I don't think their selection is any more better than the Dubuque store. But after going to Source Book Store and Ragged Records, I really didn't see the need to go anywhere else. Ragged Records is for the hardcore music collector. To which I'm sure they'll be seeing me once again before the year is out.
http://www.sourcebookstore.net/
And there's Co Op Records in Moline.
http://www.facebook.com/pages/Co-Op-Records-of-Moline/135926373139069
I figured the last time I went to Davenport I was complaining there wasn't any good music stores when I didn't pay much attention to what was downtown. Looks like Davenport has inched ahead of Dubuque and Iowa City in terms of music stores to speak of. I'm sure I'm due for a IC trip soon. Bargain hunters never sleep.
From Ragged Records
CD:
John Mayall/Bluesbreakers-Chicago Line (Island 1988)
The Silencers-Dance To The Holy Man (RCA 1989)
45's
The Who-Call Me Lightning (Decca 32288)
Julie Driscoll, Brian Auger & The Trinity-This Wheels On Fire (Atco 6593)
The Detergents-Double-O-Seven (Roulette 4603)
Ted Cassidy-The Lurch (Capitol 5503)
Earl Knight/George Kelley-Let It Roll Part 1 and 2 (ABC Paramount 10023)
Wadsworth Mansion-Sweet Mary (Long Version) Sussex SUX 209
The Dictators-Sleeping With The TV On (Asylum 45470)
Fats Domino-Red Sails In The Sunset (ABC Paramount 10484)
Don Gibson-I Let Her Get Lonely (RCA 47-8017)
45 not brought due to a crack:
The Wildweeds-No Good To Cry (Cadet 5561) (Features Al Anderson later of NRBQ fame)
http://www.wildweeds.net/index.php
Too scratchy to get from the Salvation Army
Jo Jo Gunne-Rock Around The Symbol (Asylum AS 11012)
Cd from Salvation Army
Johnny Mathis (Columbia 1956, 1996 Reissue)